Soldiers use live ammunition on protesters demanding removal of President Saleh, killing at least 12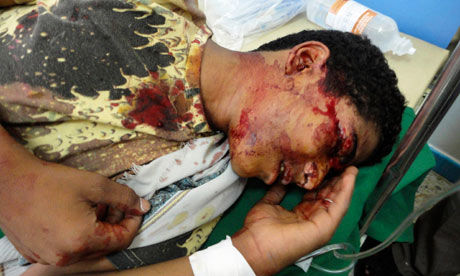 Yemeni security forces and gunmen in civilian clothes have fired on protesters marching through the southern city of Taiz , killing at least 12 people amid reports that the US now wants President Ali Abdullah Saleh to quit.
Witnesses described troops and gunmen, some on nearby rooftops, shooting wildly on thousands of people in a second successive day of violence. Some of the protesters, including elderly people, were trampled and injured as the crowds tried to flee, they said.
"It was heavy gunfire from all directions. Some were firing from the rooftop of the governor's building," said one man in the crowd, Omar al-Saqqaf. He said he saw military police load the bodies of two dead protesters into a car and speed away.
Television showed a row of men, apparent teargas victims, lying motionless and being tended by medics on the carpeted floor of a makeshift hospital in Taiz, 120 miles (200km) south of Sana'a.
The violence began when thousands of demonstrators marched down the main street toward the protest camp in Freedom Square, surrounded by security forces. As the march passed the governor's headquarters, troops blocked the procession, and clashes broke out, with some protesters throwing stones, witnesses said.
Troops from the Republican Guard and the military police on nearby rooftops opened fire with live ammunition and the marchers then besieged the governor's headquarters.
At least 12 protesters were killed, said Hamoud Aqlan, a medical official at a clinic set up by protesters in the square. Dozens more were wounded by gunshots, mainly to the head, neck and chest, he said.
In the Red Sea port of Hudaida, police and armed men in civilian clothes fired live rounds and teargas at hundreds of demonstrators marching on a presidential palace, wounding some 250 people, another medical source said.
The latest violence came as the
New York Times reported that the Obama administration had "quietly shifted positions"
and concluded that Saleh must be eased out of power. The paper reported that the US position began to change in the past week and officials had told Saleh's allies that his position has become untenable.
Saleh, who has been in power for 32 years, has said he will not run for re-election in 2013 and could step down after new presidential and parliamentary elections within a year.
However, he has ruled out an abrupt departure, saying it would cause chaos.
On Sunday, Saleh took a tough line, saying no negotiations could be held without a "halt to all protests and the mutiny by some units in the military".
"We are prepared to explore the peaceful transfer of authority in the framework of the constitution. But arm-twisting will absolutely not work."
He told a gathering of pro-government tribesmen on Monday: "We are standing firm, and we will defend constitutional legitimacy by all means. We will stand as firm as mountains and will remain faithful to the people."
Sources say the US gave Saleh an ultimatum last week to agree on a deal negotiated by the US ambassador in Sana'a. It reportedly ensures a peaceful exit and transition of power, otherwise it would publicly call on Saleh to step down.
The opposition says talks have stalled because Saleh is manoeuvring to ensure he and his family do not face prosecution over corruption claims.
A diplomat in Sana'a said the focus was still on talks and that public calls to stand down were premature.
If Washington were to call on Saleh to go, "I'm not sure if he (Saleh) would immediately cave in", he said. "In Yemen attempts at agreeing a political transition have repeatedly stalled or failed."
During an update to parliament on Libya, the foreign secretary, William Hague, put pressure on Saleh.
"There is an urgent need for steps to meet the legitimate demands of the Yemeni people," said Hague, "and we call on President Saleh to engage with the opposition and with the protesters in a way that meets these aspirations and avoids violence."