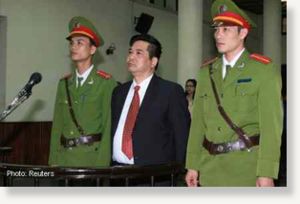 The son of a Vietnamese revolutionary leader was jailed for seven years on Monday for spreading anti-state propaganda, in one of the communist nation's most politically charged cases in years.
After a trial lasting about half a day, Cu Huy Ha Vu was convicted of advocating an end to one-party communist rule. The 53-year-old was charged after twice trying to sue the prime minister.
"Cu Huy Ha Vu's behaviour is serious and harmful to society. His writings and interviews blackened directly or indirectly the Communist Party of Vietnam," said Nguyen Huu Chinh, the head judge.
The veteran activist could have faced up to 12 years in prison on the charge, which rights campaigners say criminalises peaceful dissent.
His case led to "an unprecedented movement of popular support", much of it on the Internet, from diverse groups including Catholics, academics, and even high-level communists, said Phil Robertson, deputy Asia director of Human Rights Watch (HRW).
Vu is the son of Cu Huy Can, who was a member of revered founding president Ho Chi Minh's provisional cabinet from 1945 and remains a celebrated poet.
Chinh said that although Vu was born into "a revolutionary family", he failed to follow that tradition.
"He maintained wrong viewpoints on the multi-party system. His behaviour rejected the achievements of the nation under the leadership of the Communist Party of Vietnam," Chinh said.
The trial took place under unusually tight security.
Police declared the area in front of the Hanoi People's Court a restricted zone, detained at least three young men, and blocked some women who were carrying a bouquet of flowers near the court, an AFP reporter witnessed.
They erected barricades to seal off several blocks around the courthouse, and used megaphones to disperse dozens of onlookers standing peacefully in a park outside the exclusion zone.
"Now you see about human rights in Vietnam," complained an old man with a bicycle, as baton-waving officers ushered people out of the park.
A university lecturer in the group said she and others present were supporters of the "heroic" Vu.
"It is a special case," she said, "because he dared to sue the prime minister."
Dozens of men in plainclothes loitered in the area. Some filmed passers-by while a busload of anti-riot police and a fire engine waited.
A limited number of foreign diplomats and journalists - including an AFP reporter - were allowed inside to watch proceedings via closed-circuit television with poor sound quality.
Vu wore a shirt and tie.
The indictment accused him of spreading propaganda against the state through writings, interviews with foreign media, and Internet material since 2009.
Although the ruling Politburo agreed to Vu's arrest, other high-ranking officials had reservations because of his family history, said a foreign diplomat, requesting anonymity.
Vu, who studied law in France but is not a licensed lawyer, was arrested in November last year as political tensions rose before the Communist Party's January leadership Congress.
Two years ago, he tried twice unsuccessfully to submit what he said was the first legal action against a Vietnamese prime minister.
The case against premier Nguyen Tan Dung sought the cancellation of a bauxite mining plan that had sparked unusually broad opposition.
He also filed an unsuccessful legal action last October against Dung over a decree preventing class-action petitions, HRW said.
The indictment against Vu did not refer to his legal challenges.
Amnesty International said last month that more than 20 activists in Vietnam had been jailed over the previous year by the one-party regime.