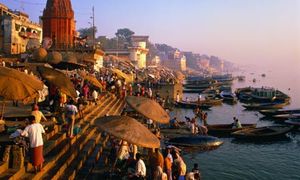 Country closing gap with China by adding 181 million citizens in past decade - which is equivalent to population of Brazil
The first results from India's latest census - the second biggest in the world - were released on Thursday, revealing that the country has added 181 million new citizens in the last decade, making it home to 17% of the world's population.
China remains the most populous country on the planet, with 1.34 billion, but India is closing the gap with 1.21 billion. The additional Indians found by the census are roughly equivalent to the population of Brazil, the fifth largest country in the world. One Indian state alone - Uttar Pradesh - now has a population of 199,500,000 people, just under that of Britain, France and Germany combined.
However C Chandramouli, the census commissioner, told reporters in Delhi that the new count showed population growth in India had slowed. The 17.6% increase was down from 21.5% recorded in 2001.
Though Indian economists and politicians talk frequently of the "demographic dividend" from the hundreds of millions of young people in their country, there is fear that overpopulation is placing a huge strain on poor social services and infrastructure.
The first modern census in India was conducted under British rule in 1872. Since then, Indian census officials have gone forth more or less every decade and counted how their countrymen have multiplied. The most recent exercise involved 2.3 million "enumerators" travelling to more than 630,000 villages and more than 5,000 cities, logging how many people live in any one place, establishing identities and ages, and noting details such as whether a household has air conditioning, a car, a computer, phones and internet access, as well as basics such as water and power.
The controversial question of caste, the ancient hierarchy rooted in the Hindu religion which permeates all parts of Indian society, has been left to a separate census.
Care was taken to include the homeless, with enumerators, who are often schoolteachers, scouring streets and railway stations to arrive at an accurate count.
The Indian media made much of the inclusion of even Mohammed Ajmal Kasab, a Pakistani national who is the only surviving member of the group of terrorists who launched the 2008 Mumbai terror attacks, and who is on death row.
Though there is good news - a rise in literacy of nine points to 74% for Indians aged seven and older - there is also bad news. The figures indicate a continuing preference for male children over females in a country where female infanticide is still common and the government has been forced to ban doctors from revealing the sex of unborn children.
This is particularly marked in the north, even in more prosperous states such as Haryana. Some experts attribute this to the availability of new, cheap ultrasound scans which allow parents to easily determine the gender of child, others to families deciding to have fewer children and wanting to ensure a son.
The breakdown showed 914 girls being born or surviving for every 1,000 boys under the age of six, compared with 927 for every 1,000 in the last census. "This is a matter of grave concern," said Chandramouli.
Efforts to stop female infanticide and foeticide have largely failed.
"Whatever measures that have been put in over the last 40 years has not had any impact on child sex ratio and therefore that requires a complete review," G.K. Pillai, India's Home Secretary, told reporters.
The overall gender ratio showed a marginal improvement, with 940 women counted for every 1,000 men, compared with 933 in the last census.
The southern state of Kerala, which has long enjoyed high literacy rates for men and women, had the healthiest sex ratio in the country, the census has found.
One of the most difficult facts to establish has been age of Indians, officials involved with the count told the Guardian. Few among the poor know their date of birth, which nonetheless has to be established so that they can all be issued with the biometric identity card which is a key part of new government programmes to broaden and improve access to India's vast but inefficient welfare schemes. To help find ages, the enumerators were given a "local event calendar" listing significant dates which respondents would remember.
The calendar in use around Delhi - every region has its own - starts in 1905 and includes India's independence in 1947, the assassination of former prime minister Rajiv Gandhi in 1991 and Mother Teresa's death in 1997. There is also the Indian victory over the West Indies to win the 1983 cricket World Cup.