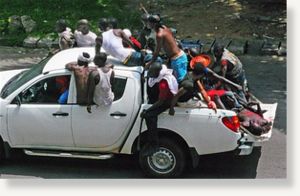 French troops have taken control of Abidjan airport as forces loyal to the country's rival presidents fight for control of Ivory Coast's main city, the French military said Sunday.
France has also boosted its Licorne (Unicorn) mission in the cocoa-rich nation by 300 to around 1,400 troops, where part of their mission is to protect foreigners from attacks and looting amid rising insecurity.
"Licorne, in coordination with UNOCI (United Nations Operation in Cote d'Ivoire), has taken control of Felix Houphouet-Boigny airport," chief of staff spokesman Colonel Thierry Burkhard told AFP.
"UNOCI and Licorne troops are ensuring security and air traffic control at the airport," Burkhard said.
This allows "civil and military aircraft to land at the airport so that foreigners wishing to leave Ivory Coast can do so," he said, adding that no decision had yet been taken to evacuate foreigners.
More than 1,650 foreigners, about half of them French, have taken shelter at a Licorne camp in Abidjan.
Licorne's main mission is to provide support to UNOCI and ensure the safety of French and other foreigners in times of crisis.
The streets of Abidjan were deserted Sunday while fighting abated near bastions of strongman Laurent Gbagbo after a four-day assault by rival forces.
Terrified Abidjan residents have been in lockdown since the army of internationally recognised president Alassane Ouattara arrived Thursday after a lightning offensive across the country, seeking to unseat Gbagbo.
Burkhard said that more peacekeepers had been flown in "to deal with any evolution of the situation."
"Two extra companies (around 300 soldiers) have been deployed in Abidjan by Hercules C-130 and Transall (C-160) transport planes," Burkhard said.
France already in recent days reinforced its troop contingent in Abidjan with around 150 troops.
The boost enables troops "to deal with any evolution of the situation and ton assure the security of foreigners."
Burkhard said that one French soldier had been shot and lightly wounded by forces loyal to Gbagbo.
The president of former colonial power France, Nicolas Sarkozy, is to hold a meeting on the situation in Ivory Coast at his Elysee Palace on Sunday afternoon, his office said.