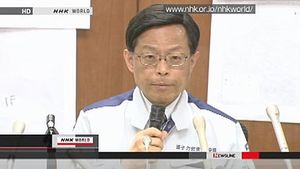 Japan's Nuclear and Industrial Safety Agency said a full-scale recovery of cooling systems at the Fukushima Daiichi nuclear power plant is needed to stem the leakage of radioactive substances, but that work will take several months.
A senior official of the agency, Hidehiko Nishiyama, made the comments at a news conference on Sunday.
Highly radioactive water was found inside turbine buildings and also in tunnels under the plant. The radioactive water is flowing directly into the sea.
The agency said it will take several months to remove the contaminated water in the turbine buildings and to take measures to protect workers from radiation.
At a news conference on Sunday, the independent Nuclear Safety Commission also pointed out that it will take months to stem the leakage and restore cooling systems.
The commission said rubble and high radiation levels in some parts of the plant will hamper work.