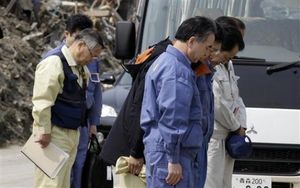 Tokyo - Japanese nuclear official says highly radioactive water is leaking from a damaged nuclear plant into the Pacific Ocean.
Nuclear safety spokesman Hidehiko Nishiyama says
the air above the leak contains
1,000 millisiverts
of radioactivity
.
Exposure to 500 millisiverts
over a short period of time
can increase the risk of cancer.
The water was seeping Saturday from a crack in the containment for a maintenance pit on the edge of the nuclear site.
The Fukushima Dai-ichi plant has been spewing radioactivity since it was hit by a tsunami three weeks ago.
This is a breaking news update. AP's earlier story is below.
Rikuzentakata, Japan (AP) -- Japan's prime minister bowed and paused for a minute of silence Saturday in front of one of the only buildings left standing in a town gutted by a massive tsunami, as he visited the pulverized northeastern coast for the first time.
U.S. and Japanese troops resumed their all-out search of the coastline for any remaining bodies in what could be their last chance to find those swept out to sea. More than 15,500 people are still missing after the disaster, which officials fear may have killed some 25,000 people.
The magnitude-9.0 earthquake and ensuing tsunami also knocked out power to a nuclear plant, disabling cooling systems and allowing radiation to seep out of the overheating reactors.
Prime Minister Naoto Kan went to the Fukushima Dai-ichi nuclear complex soon after the wave hit. But Saturday marked his first visit to some of the dozens of villages, towns and cities wiped out in the March 11 disaster.
Dressed in the blue work clothes that have become almost a uniform for officials, Kan stopped first in Rikuzentakata -- a town of about 20,000 people that was flattened by the torrent of water.
The town hall still stands, but all its windows are blown out and a tangle of metal and other debris is piled in front of it. The prime minister bowed his head for a minute of silence in front of the building. He met with the town's mayor, whose 38-year-old wife was swept away in the wave and has been missing since.
Kan later visited an elementary school, which, like scores of schools and sports centers up and down the coast, is serving as an evacuation center.
"The government fully supports you until the end," Kan told the 250 evacuees.
Up and down the coast, helicopters, planes and boats carrying U.S. and Japanese troops scoured again Saturday for the dead. They found 30 bodies Friday, most floating in coastal waters. So far, 11,800 deaths have been confirmed.
"Unfortunately, we've come across remains over the scope of our mission, so it may be more likely than you think" to find bodies at sea so long after the disaster, said U.S. Navy Lt. Anthony Falvo.
Some may have sunk and just now be resurfacing. Others may never be found. After the 2004 Indian Ocean tsunami, 37,000 of the 164,000 people who died in Indonesia simply disappeared, their bodies presumably washed out to sea.
The Japanese military stopped short of saying the search would end for good after Sunday, but public affairs official Yoshiyuki Kotake said activities will be limited.
Police officers have also been searching for bodies in decimated towns inland, but in some cases their efforts have been complicated or even stymied by dangerous levels of radiation from the nuclear plant, which is 140 miles (220 kilometers) northeast of Tokyo.
People who live within 12 miles (20 kilometers) of the plant have been forced to leave, though residents are growing increasingly frustrated and have been sneaking back to check on their homes. Government officials warned Friday that there were no plans to lift the evacuation order anytime soon.
Tadashi and Ritsuko Yanai and their 1-month-old boy fled their home six miles (10 kilometers) from the plant after the quake. Baby Kaon has grown accustomed to life in a shelter routine, but his parents haven't.
When asked if he had anything he would like to say to Kan, the 32-year-old father paused to think and then replied: "We want to go home. That's all, we just want to go home."
Radiation concerns have rattled the Japanese public, already struggling to return to normal life after the earthquake-generated tsunami. Three weeks later, more than 165,000 are living in shelters, 260,000 households still do not have running water and 170,000 do not have electricity.
The International Atomic Energy Agency in Vienna has said they've seen evidence that less radiation is being emitted. Samples from Iitate village -- about 25 miles (40 kilometers) from the Fukushima complex -- show levels decreasing from earlier in the week.
But senior official Denis Flory told reporters that "the overall situation is basically unchanged. It is still very serious."
Damage to the reactor cores from overheating is thought to be extensive, ranging from about 25 to 70 percent, according to a TEPCO spokesman who declined to named because he was not authorized to speak to the media.
The U.N. nuclear agency is sending two reactor specialists to Japan to get firsthand information. They will meet experts in Tokyo and may go to the Fukushima site.
Alabaster reported from Sendai. Associated Press writers Veronika Oleksyn in Vienna, Eric Talmadge in Fukushima and Ryan Nakashima, Mari Yamaguchi, Mayumi Saito, Noriko Kitano, Shino Yuasa and Cara Rubinsky in Tokyo contributed to this report.