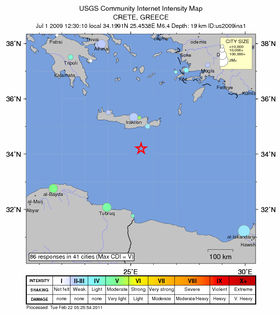 A strong earthquake struck the southern Greek island of Crete on Friday, rattling buildings as far away as Cairo, Egypt, across the Mediterranean. Local police said they had no immediate reports of damage or injuries.
The Athens Geological Institute and the German Research Centre for Geosciences in Potsdam, Germany, gave preliminary magnitudes of 6.2, while the U.S. Geological Survey gave the preliminary magnitude as 5.9. Preliminary magnitudes recorded by geological institutes often differ.
The quake struck off the southern coast of Crete at 4:29 p.m. (1329 GMT, 8:29 EDT), 122 kilometres (75 miles) east of the city of Irakleion, at a depth of 77 kilometres (48 miles), the USGS said.
Greece is one of the world's most earthquake-prone countries, but serious damage and fatalities are rare.