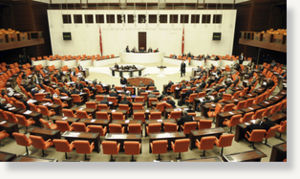 NATO appeared on Thursday to move closer to assuming command of the military operation in Libya when Turkey's foreign minister was quoted as saying an agreement has been reached.
The alliance needs the approval of all 28 of its members in order to co-ordinate the operation, and Turkey had set conditions on that role for NATO.
"The coalition that was formed following the Paris meeting will abandon the mission and hand it over entirely to a single command system under NATO," Turkey's Foreign Minister Ahmet Davutoglu was quoted as saying by Turkey's state-run Anatolia news agency.
"All of Turkey's concerns, demands on the issue have been met," he said, and NATO has promised to complete the work needed to take over the Libya mission "within one or two days."
Concerns voiced
Earlier in the day, Turkey's parliament authorized the government to participate in military operations in Libya, including the no-fly zone. Turkey is NATO's only Muslim member.
Turkey's government had insisted that any NATO mission, including the no-fly zone, must be restricted to protecting civilians, enforcing the arms embargo and providing humanitarian aid.
Davutoglu had said Wednesday that his country would not agree to a "framework that goes beyond this." But Turkey also said it would contribute four frigates and one submarine to the NATO naval force patrolling off Libya's coast to enforce a UN arms embargo. Two frigates had reached the Libyan coast while two others were on their way.
In Brussels, NATO officials said the military committee - the alliance's highest military body - met Thursday morning in Brussels to review plans to enforce the no-fly zone in Libya. The decision-making North Atlantic Council, consisting of envoys from all 28 member nations, was meeting later Thursday to review them.
It has been meeting for six straight days, but a series of disagreements, including whether NATO should have overall political control over the operation and how aggressive rules of engagement should be, have so far blocked an agreement.
Thursday's vote in Turkey's parliament authorizes the government and military to participate in operations in Libya up to one year, without specifying what kind.
NATO's top military commander, U.S. Admiral James Stavridis, met Turkish military leaders in Ankara on Thursday to discuss Turkey's concerns.
Prime Minister Recep Tayyip Erdogan voiced concern over the campaign and accused Western nations of having what he claimed were designs on Libya's oil. He did not name any country. "I wish they would look at Libya with a conscientious eye instead of an eye for oil," he said.
Erdogan also spoke of the possibility of sending peacekeepers to Libya but insisted the Turkish soldiers would not aim guns at fellow Muslims.
"Turkish planes, Turkish soldiers will never be the ones firing bullets and dropping bombs on our brothers in Libya," Erdogan said.
Libyan officials, opposition to meet: UN
Meanwhile, the United Nations secretary general says representatives of Moammar Gadhafi's government and the Libyan opposition will attend an African Union meeting in Addis Ababa, Ethiopia, on Friday.
The meeting is part of an effort to reach a cease-fire and political solution in Libya.
Ban Ki-moon told the Security Council on Thursday there is no evidence that Libyan officials have instituted a ceasefire as they claim. He says his special envoy has warned Gadhafi government officials that the 15-member council is "prepared to take additional measures" if they do not respect UN resolutions calling for a ceasefire.
The UN chief is also expressing concerns about the North African country's humanitarian situation, and protection of civilians.
Source: The Associated Press and The Canadian Press