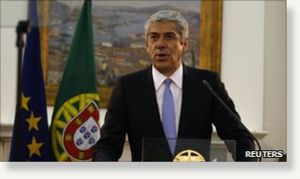 Portuguese Prime Minister Jose Socrates has resigned after parliament rejected an austerity budget.
The defeat is likely to trigger a bailout similar to the rescue packages Greece and the Republic of Ireland had to accept last year.
All five opposition parties voted against the austerity measures, which included spending cuts and tax rises.
Mr Socrates had earlier said he would no longer be able to run the country if the budget was not adopted.
Elections are likely to take place in a few months' time.
Mr Socrates, from the centre-left Socialist Party, presented his resignation to President Anibal Cavaco Silva two hours after the vote in parliament.
EU summit
Opposition parties said the budget - the fourth package of austerity measures in a year - went too far.
"Today, every opposition party rejected the measures proposed by the government to prevent that Portugal resort to external aid," Mr Socrates said in a televised address.
"The opposition removed from the government the conditions to govern."
The vote late on Wednesday came on the eve of a European Union summit to finalise a eurozone debt crisis plan.
On Thursday, Eurozone leaders begin a two-day summit during which they hope to finalise details of a "grand bargain" to deal with the 17-nation group's debt burden.
The country's borrowing costs have surged as investors worried over its financial health.
Lisbon has argued its situation is different from Greece and the Irish Republic - both of which have agreed to bail-outs from the European Union and International Monetary Fund.
It says that its deficit and debt are lower than those nations, that it has not suffered a bubble in property prices and that its banks are sound.
The yield on Portugal's 10-year bond hit a new high of 7.52% in late trading on Wednesday ahead of the key budget vote, an indication of investors' concerns about the country's ability to pay back its debts.