MPs back president's move to suspend constitution, ban street protests and give security agencies greater powers of arrest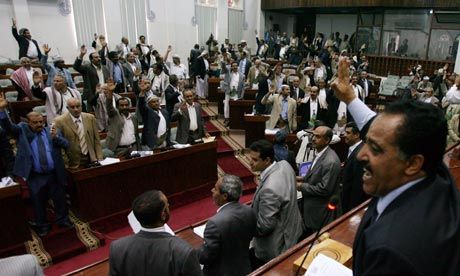 Yemen's parliament has approved a sweeping set of emergency laws giving broader powers of arrest and censorship to the president, Ali Abdullah Saleh, despite growing calls from opponents demanding he quit to make way for a military-backed democratic transition.
The emergency law, last evoked during Yemen's 1994 civil war, suspends the constitution, allows for greater media censorship, bans street protests and gives security agencies arbitrary powers to arrest and detain suspects without judicial process.
The approval of the emergency laws came as talks between oil giant Saudi Arabia and Major General Ali Mohsen al-Ahmar, a top Yemeni commander who abandoned the president on Monday, failed to yield a clear transition of power.
Only 161 of the 301 members of parliament attended the vote, with those present approving the 30-day emergency law through a chaotic show of hands. Opposition MPs, along with dozens of members of Saleh's General People's Congress, boycotted the session, rejecting its "unconstitutional" measures.
The imposition of emergency rule comes as a rift emerges between the regime and a cohort of military commanders, tribal chiefs, politicians and diplomats who have joined together to demand that Saleh, who has been running the country for 32 years, step down.
Thousands of protesters camping in the streets adjoining Sana'a University dismissed the emergency law as irrelevant and continued chanting for Saleh's immediate resignation.
"The idea of banning protests when tens of thousands are already camped out on the streets is ridiculous," said Adel Suwabi, a 23-year-old medical student who has been co-ordinating the protest movement on Facebook. "Our numbers grow every day regardless of what Saleh announces."
The protesters are debating whether to march on the presidential palace on Friday, which they have dubbed "departure Friday". The palace is being guarded by tanks from the Republican guard, which moved into key positions across the capital on Monday after Ali Mohsen sent troops from his 1st armoured division to protect protesters.
Muhammad Qahtan, spokesman for the Islamist-led opposition coalition Joint Meeting Parties, which also includes Socialist and Nasserite parties, said protesters were ready to lay down their lives on Friday. "We will march to the president's palace with open chests and you [Saleh] can kill whoever you like to kill," Qahtan told reporterslocal press on Wednesday. "We are not afraid of another massacre," he said, referring to a bloody crackdown by security forces against unarmed protesters last Friday in which gunmen, whom the opposition alleges were soldiers from units commanded by Saleh's son, opened fire into the crowd, killing dozens of people. Saleh said a special investigation would look into the killings and a number of arrests had been made.
Saleh lashed out on Wednesday at the JMP, accusing them of threatening the country's stability.
"They [the JMP] do not realise their national responsibilities and the potentially devastating repercussions of their practices against the country," said Saleh, addressing a group of loyal military officers from Yemen's central security at a brigade camp in Sana'a.
The day before he accused a group of defected generals of trying to mastermind a coup against him and said that in doing so they risked dragging the country into "a bloody civil war". Yemen's opposition also turned down a tentative offer on Tuesday by the embattled president to step down by the end of the year.
Analysts say Saleh's recent shows of defiance suggest he may be in it for the long haul.
Saleh's calling of the parliament vote shows "he's still adhering to some gestures in the direction of democracy," said Gregory Johnsen, a Yemen expert at Princeton University. "This suggests he intends to hang around and survive the crisis."
Since February, Saleh has repeated promises for a new constitution, called for the formation of a unity government and said he will not seek to extend his term when it expires in 2013. The opposition movement has dismissed those offers and insists he must step down.
Late on Wednesday night the interior ministry shut down the al-Jazeera office in Sana'a and revoked the accreditation of its correspondents after putting out a statement warning foreign media to exercise maximum accuracy and professionalism while covering the situation in Yemen.
"The ministry will regrettably withdraw the licence of any correspondent or foreign outlets found abusing his profession," Saba, the government news agency, quoted a source from the information ministry as saying.