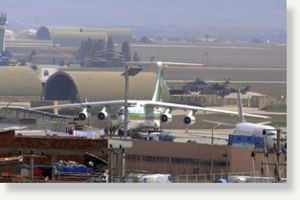 Turkey has intercepted an Iranian cargo plane flying to Syria, ordering it to land southeastern Turkey on suspicions the aircraft might have been carrying military supplies.
Turkish chemical, biological, radiological and nuclear search teams boarded the plane at the Diyarbakir airport and conducted a thorough search for hazardous substances. They reportedly only found 150 tons of food inside.
The Iranian plane was subsequently allowed to depart - allegedly for Aleppo, Syria.
But there are some confusing accounts surrounding the incident.
For one thing, Turkey's foreign ministry has denied reports the Iranian aircraft was forced to land by two Turkish F16 fighters.
The Iranian plane was reportedly operated by a private company, had two pilots and an unknown number of crewmembers on board.
The government of Iran has denied any links to the plane or its cargo. Tehran exports of arms or nuclear materials are subject to an embargo by the United Nations due to the government's refusal to cease its uranium enrichment program.
However, Turkish officials took pains to emphasize that the search abided by standard procedures and had nothing to do with UN sanctions against Iran.
A Turkish diplomat told the Turkish newspaper Today's Zaman: "During the... landing, the airport director has the authority to check the passports of the passengers, to check the consignment note or to search the cargo."
He added: "it doesn't necessarily mean that the search stemmed particularly from doubts over nuclear cargo. The airport director must have decided to call the [search] team. If he had wanted, he could call a military team, too, for example."
Adding to the intrigue, just a few hours prior to the Diyarbakir incident, the Israel navy seized a ship in Mediterranean waters which they claimed was carrying Iranian arms destined for militants in Gaza.
That seagoing vessel, called the Victoria, reportedly sailed from Latakia in Syria to Mercin in Turkey before heading towards Alexandria, Egypt. Israeli officials further stated that neither Turkey nor Egypt was aware of the ship - and even the crew did not know the nature of the cargo aboard.
The Victoria was subsequently directed to the Israeli port of Ashdod where officials found a plethora of bullets, mortar shells and land-to-sea missiles.
Such military weapons could potentially reduce Israel's ability to enforce its naval blockade of Gaza, which was imposed after Hamas took power there in 2007.
The Iranian government has also denied any connection to this Israeli incident.
Iranian Foreign Ministry spokesman Ramin Mehmanparast said: "Don't trust Israeli media news. There is no such thing. We do not confirm it in any way."
Israel has long accused both Iran and Syria of supplying arms to Hamas militants in Gaza and Hezbollah guerrillas in Lebanon.
Israel believes Hamas now has rockets that can strike much of Israel, as well as other advanced anti-tank and anti-aircraft weapons.
This was not the first time that Turkey intercepted an Iranian airplane. In two episodes in July and August 2006, the Turkish Foreign Ministry forced two Syria-bound Iranian aircraft to land at Diyarbakır Airport and to submit to searches. That was during the conflict between Israel and Hezbollah.