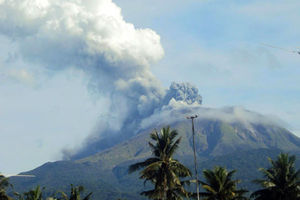 One volcanic earthquake and at least three rockfall incidents were recorded near restive Bulusan Volcano in Sorsogon in the last 24 hours, the Philippine Institute of Volcanology and Seismology said Friday.
In its 8 a.m. update, Phivolcs also noted weak steaming activity at the southeast thermal vent.
"Bulusan Volcano's status remains at Alert Level 1. This means that the source of activity is hydrothermal and shallow. Entry to the 4-kilometer radius Permanent Danger Zone (PDZ) is strictly prohibited, since the area is at risk to sudden steam and ash explosions," it said.
Citing the prevailing wind direction, Phivolcs reminded residents in the northwest and southwest sectors of the volcano to take precautions against ash falls.
It also said civil aviation authorities must warn pilots to avoid flying close to the volcano's summit as ejected ash and volcanic fragments from sudden explosions may be hazardous to aircraft.
In Albay, Phivolcs recorded three volcanic quakes near Mayon Volcano in the last 24 hours.
Alert Level 1 remains in effect over Mayon Volcano, meaning the public should not enter the 6-km PDZ due to the continuing threat from sudden small explosions and rockfalls from the upper and middle slopes of the volcano.
"Active stream/river channels and those perennially identified as lahar prone areas in the southern sector should also be avoided especially during bad weather conditions or when there is heavy and prolonged rainfall," it said.
Meanwhile, Taal Volcano in Batangas was relatively quiet in the last 24 hours, with no volcanic quake recorded.
But Phivolcs said Alert Level 1 is still enforced over Taal Volcano, and reminded the public that the Main Crater should be strictly off-limits due to sudden occurrence of steam explosions and accumulation of toxic gases.
"The northern portion of the Main Crater rim, in the vicinity of Daang Kastila trail, may also be dangerous when increased steam emission is reactivated along existing fissures," it said.