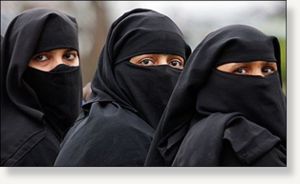 French authorities will begin enforcing a new ban on wearing full Islamic veils in public in April, officials said Thursday. Women wearing coverings that hide the face will be asked to remove them or pay a fine.
France will start enforcing a ban next month on full Islamic face veils, officials said on Thursday, meaning any veiled woman can be summoned to a police station and asked to remove her face-covering or pay a fine.
Officials say the law is mainly symbolic and police will not call in every veiled woman they see to avoid stigmatising Muslims.
But a Paris imam said forcing veiled women to present themselves at a police station would be just as uncomfortable.
When France passed the ban on full face veils last year, Muslim leaders voiced concern it could lead to veiled women being unfairly treated by police or singled out for harassment.
"My gut reaction is to say this is all a bit clumsy," said Moussa Niambele, the imam of a mosque in the north of Paris.
The ban forbids wearing any garment concealing the face in a public space, namely the street, public transport, shops, schools, courtrooms, hospitals and government buildings.
From April 11, police are instructed to summon veil-wearers to a station, where they will be asked to remove the garment for "identification" and leave it off. If the wearer refuses to remove it they will be fined up to 150 euros ($208).
"You are stopped in public by the police and forced to follow them to the station like an undesirable person," Niambele told Reuters. "This is altogether too much ceremony."
France's Muslim community of 5 million is Europe's largest. Fewer than 3,000 women wear the face veil, the goverment says.
As part of its public relations effort, the government has rolled out a website with the URL "uncovered-face.gouv.fr" and printed posters and pamphlets to be passed out in city halls.
"Nobody is allowed, in a public space, to wear a garment designed to conceal their face," says the poster under a picture of "Marianne", a symbolic female figure of the French Republic.
The ban comes into force as President Nicolas Sarkozy is putting a special focus on Islam and its role in a secular society ahead of a presidential election in 2012.
Some critics have dismissed the ban as a purely political instrument, given the rarity of veil wearers in France.
Concerns the ban could lead to humiliation for Muslims were underscored last year when a French woman attacked a veiled Emirati tourist at a luxury boutique invoking the planned ban.
Source: Agence France-Presse