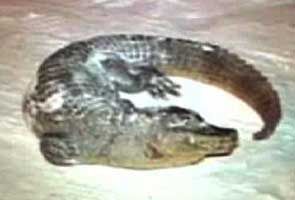 A frozen crocodile has been found in the Mazury forest in Poland.
The reptile measured 1.5 meters in length and weighed 20 kilogram.
The police have launched an investigation to try to find out where it came from and what happened to the reptile.
The crocodile was taken to the Institute of Pathological Anatomy of the University of Warmia and Mazury in nearby Olsztyn for a post mortem examination.
Professor Taduesz Rodkiewicz of the university said it was a sexually mature female dwarf crocodile.
"It's very rare in Poland," he said.
The post-mortem has established that the crocodile was not killed so had probably died of natural causes.