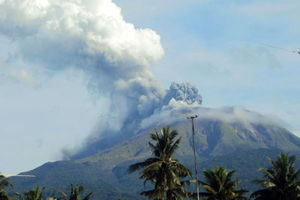 At least 13 volcanic quakes were recorded around restive Bulusan Volcano in Sorsogon in the last 24 hours, state volcanologists said Monday morning.
The Philippine Institute of Volcanology and Seismology said the quakes were "lahar-related" - a day after lahar flows affected water supply in parts of Sorsogon.
"Bulusan Volcano's seismic network recorded 13 lahar-related seismic signals during the past 24 hours. Steaming activity was not observed due to thick clouds covering the active vents and summit crater. Continuous heavy rain over Bulusan Volcano yesterday saturated loosely deposited ash and rock fragments and generated small lahar flows to roll down the slopes of the volcano then flowed along river channels," Phivolcs said on its website.
It said channel-confined lahar flows were observed along Cogon and Monbon river channels.
Other than that, it said no other significant volcanic activity was observed since the last ash explosion on Feb. 21.
Earlier, a separate report on dzBB radio said lahar flows triggered by heavy rains Sunday affected the supply of drinking water in some parts of Sorsogon.
The dzBB report said residents in the affected areas had to walk as far as three kilometers to get drinking water.
Meanwhile, Phivolcs said Bulusan's status remains at Alert Level 1, meaning the source of activity is hydrothermal and shallow.
"Entry to the 4-kilometer radius Permanent Danger Zone (PDZ) is strictly prohibited, since the area is at risk to sudden steam and ash explosions," it said.
Also, it advised residents in the northwest and southwest sectors of the volcano are reminded to take precautions against ashfalls.
Civil aviation authorities must also warn pilots to avoid flying close to the volcano's summit as ejected ash and volcanic fragments from sudden explosions may be hazardous to aircraft, it said.
Also, it advised people living near valleys and river/stream channels to be vigilant against sediment-laden stream flows and lahars in the event of heavy and prolonged rainfall.
Taal watch
In Batangas province, at least six volcanic quakes were recorded in the last 24 hours.
"One of these events, which occurred at 12:04 p.m. Sunday, was felt at Intensity II by residents in Barangay Calauit at the southeast side of the volcano island," it said.
Alert Level 1 is still enforced over Taal Volcano, where the main crater remains strictly off-limits due to sudden occurrence of steam explosions and accumulation of toxic gases.
"Moreover, the public is also reminded that the entire Volcano Island is a Permanent Danger Zone (PDZ), and permanent settlement in the island is strictly not recommended," Phivolcs said.
Meanwhile, in Albay, Phivolcs recorded one volcanic quake in the last 24 hours. Alert Level 1 also remains in effect over Mayon.