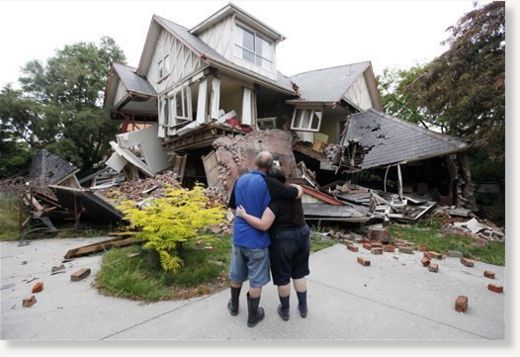 The neighborhood's toilet is a portable one out on Keller Street. The water supply is cut, making showers and clean laundry distant dreams. Resident stay fresh with bottles of hand sanitizer, and they're running low.
"Don't stand too close to anyone," Judy Prime said with a chuckle as she took a break from shoveling huge piles of wet sludge out of her garage in the shattered Christchurch suburb of Avonside.
The days since Tuesday's massive earthquake rumbled through Christchurch, killing at least 113 and toppling buildings, have brought a level of misery unusual for the residents of this modern city of 350,000. Water and power supplies to thousands have been cut, and many have been forced to sleep in their cars or tents as their unstable houses sway with the relentless aftershocks.
Many Christchurch residents first started getting used to some deprivation five months ago, when an earlier quake struck the city. Now, life is even worse.
Tuesday's temblor brought a fresh surge of water up through cracks in the yards of Prime and her neighbors along Keller Street. Most houses on the street suffered damage, and many will need to be demolished.
Prime, 66, has spent each night sleeping on a rubber mat under the dining room table, worried that aftershocks will send parts of her home crashing down. Every evening, she and her neighbors gather in her back yard to share beers and barbecue the meat from her freezer - still good, because it was encased in thick ice when the power went out.
"We've become a family, you know?" she said. "What one hasn't got, the other has."
Across the road, Christmas lights adorn the portable toilet that has stood outside Paul Stokes' house since the September quake knocked out the sewage line. Officials still hadn't gotten around to fixing the pipes from that disaster when Tuesday's temblor hit.
"Only Christmas lights I put up this year - it's really handy in the middle of the night," said Stokes, who was wearing a T-shirt that said "Tested to 7.1" - a reference to the magnitude of the September quake.
Mayor Bob Parker said 780 portable toilets have been installed throughout the city, and hundreds more are on their way. But many residents have resorted to digging holes in their gardens to take care of business. For those on Keller Street, the Stokes' toilet is a blessing.
Inside their home, Stokes' wife Yvonne sat by a wood stove, warming up from the chilly drizzle outside. Thursday was the first night since the quake that she slept - while sitting up in a chair in the living room. The ceiling in her bedroom is sagging, the walls are cracked and she worries the roof might cave. The whole house will have to be destroyed, she said.
Thursday also marked the first day she'd managed to eat since the disaster; the family cooked up sausages and mashed potatoes on a gas stove.
She clutched the hand of her sister-in-law, Christine Lagan, and cried as the two sat side by side. Lagan took the family's laundry back to her house outside Christchurch on Thursday and returned with fresh clothes - giving the family a small measure of dignity amidst the dismal conditions.
"We go to the toilet and can't even flush," Yvonne said, tears running down her face. "We are in tatters."
Still, Yvonne said neighbors were keeping each other sane by banding together. Neighbors were dropping off meat pies, chocolate and bottles of water to those in need, and the couple who runs a nearby corner store was giving away any food they could spare.
"We're all looking after each other," she said.
Across the road, she embraced a weeping 71-year-old Wyn Tinnion, who said she has not been able to stop crying since the quake sent nearly everything she owned crashing to the floor.
"You just don't know what to do - at least we're alive," Tinnion said, burying her face into Yvonne's shoulder.
"At least we've got each other," Yvonne added, giving her a squeeze.
Tinnion and her 75-year-old husband Kelvin have been surviving on donated water and cooking on a gas stove lent by a neighbor. Tinnion was too scared to lock herself in any of the city's portable toilets, so she has been using a bucket instead. Her husband has the unenviable task of emptying it for her.
At night, the couple uses flashlights and candles to see around their house. They whittle away the hours listening to their battery-operated radio.
The walls are cracked, and her garage is flooded with murky water and mud. She hasn't changed her clothes since Tuesday, and her face crumpled again as she looked down at her nails, ringed with purple residue from the blueberries she scrounged from her freezer.
"I'm so filthy. I haven't had a wash since last Tuesday," she said, eyes welling with tears.
"Hey," Yvonne said gently, slipping an arm around her friend. "I don't look like a beauty queen."
For a moment, Tinnion's eyes cleared - and the two women began to laugh.
Source: The Associated Press