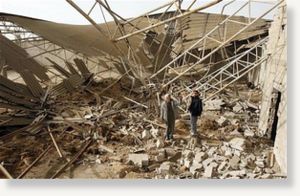 Israeli jets bombed several sites in the Gaza Strip yesterday in response to a rocket attack on a southern Israeli city.
"I don't suggest anyone test the determination of the state of Israel," Prime Minister Benjamin Netanyahu said.
The exchange of fire comes after a day of clashes along the Gaza border in which one Islamic Jihad militant was killed and 10 other people wounded.
There were no immediate reports of casualties in the air force strikes or from the rocket that landed in the city of Beersheba, the first time the city has been targeted since Israel's devastating 2009 Gaza offensive.
The military said in a statement it had "targeted a terrorist squad in the northern Gaza Strip, in the same location where rockets were fired towards the Israeli city of Beersheva."
Later, war planes bombed several other sites across the coastal strip, which the military called "hubs of terror". It gave no further details.
Israeli television broadcast footage of a crater gouged out of a street next to a badly damaged house that was hit by a military grade Grad rocket.