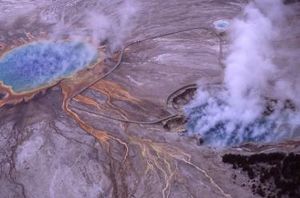 Two earthquakes of the same magnitude - 2.2 on the Richter scale - struck Yellowstone Park this week.
The first was at 9:34 pm Thursday, February 24, 48 miles east of Island Park. The next was at 5:04 am Friday, February 25, 32 miles east-northeast of Island Park.
According to the Yellowstone Volcano Observatory's January report, there were 57 earthquakes in the park in January this year. The largest was a magnitude 2.4 event on January 25 at 9:51 pm, about 6 miles north northwest of West Yellowstone. No earthquake swarms were noted in January 2011.
Analysis of the Yellowstone GPS data shows that the period of accelerated Yellowstone caldera uplift, beginning in 2004, has stopped. Some GPS stations exhibit little change and others reflect slight subsidence, according to the report.
Yellowstone National Park's supervolcano has produced eruptions more powerful than Mount St. Helens's 1980 eruption three times in the past 2.1 million years. Yellowstone's caldera, which covers a 25- by 37-mile area of Wyoming, is an ancient crater formed after the last big blast some 640,000 years ago.
Since then, about 30 smaller eruptions, including one as recent as 70,000 years ago, have filled the caldera with lava and ash, producing today's relatively flat landscape.
Beginning in 2004, scientists saw the ground above the caldera rise upward at rates as high as 2.8 inches a year. The rate slowed between 2007 and 2010 to 0.4 inch a year or less. Since the swelling started, ground levels over the volcano have been raised by as much as 10 inches in places, according to the U.S. Geological Survey.