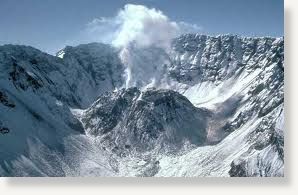 The United States Geological Survey is watching the Mount St. Helen's volcano closely after a series of earthquakes struck on Monday. The area around Mount St. Helen's in Washington state has been experiencing
minor earthquakes
since an initial quake measuring 4.3 in magnitude struck around 10:35 a.m. local time, according to the USGS. Since that first quake,
several smaller
aftershocks were registered ranging between 1.0 and 2.8 in magnitude.
All of these earthquakes were centered in an area approximately five to six miles north of the Mount St. Helen's crater near the Johnston Ridge Observatory. The quakes were registered at depths between 1.7 and 3.7 miles. In total, at least 12 small earthquakes were registered in the area since the first quake on Monday.
This series of small earthquakes occurring in approximately the same location over a short period of time is known as an earthquake swarm. According to the Global Volcanic Earthquake Swarm
Database
earthquake swarms are especially common around volcanoes and are often reliable methods of predicting an eruption but the Alaska Volcano Observatory website offered that there may be no need for alarm. The
AVO website
explained that while earthquake swarms may offer information that a volcano is becoming restless, they are not necessarily indicators of a pending eruption. According to the AVO, "Most seismic swarms are not precursors to eruptions."