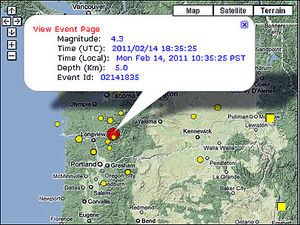 Portland, Oregon - Two earthquakes hit the Mount St. Helens area Monday morning, and one was strong enough to be felt in the Portland-Vancouver area.
KATU received many reports from viewers in the Portland area who said they felt the 10:35 a.m. temblor.
The initial quake measured 3.5 and was followed by a 2.5., but then the first quake was re-evaluated as a 4.3 - a fairly robust temblor. A 2.3 aftershock struck just before noon.
Quakes are now measured on a "magnitude scale" instead of the Richter Scale, according to KATU News Meteorologist Dave Salesky.
Posts on the KATU News Facebook page indicate the quake was felt over a wide area and one woman said it knocked out the phones for a brief time at her location.
Another poster on Facebook said he could "barely" feel it on the third floor of a downtown Portland building, but another viewer, who was on 181st Avenue, said her whole building shook.
A Longview, Wash. resident said it felt like "something hit our house," and someone from Washougal, Wash. said they did not feel anything.
The Northwest is a quake-prone area due to the volcanic forces deep underground. The crustal movement of tectonic plates under our feet produces both earthquakes and volcanoes.
The West Coast of the United States is located on the Pacific Ring of Fire, an earthquake and volcano-prone series of faults that encircles a large part of the northern Pacific Ocean.
It is believed by seismologists that the Northwest is due for a large earthquake that could devastate cities.