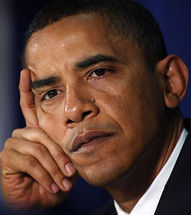 WASHINGTON - Conservative senators vowed Monday to strip President Barack Obama of his power to regulate greenhouse gases, in a move that would cripple US efforts on climate change if successful.
Eleven Republican senators introduced a bill that would stop the Environmental Protection Agency from regulating greenhouse gases, which scientists blame for global warming, without explicit approval by Congress.
Under Obama, the federal agency has steadily increased standards on gas emissions. The Republicans accused Obama of circumventing Congress, where a so-called "cap-and-trade" bill to mandate emission curbs died last year.
"My bill will shrink Washington's job-crushing agenda and grow America's economy," said Senator John Barrasso, a Republican from Wyoming and skeptic of climate change who is leading the effort.
"I will do whatever it takes to ensure that Washington doesn't impose cap-and-trade policies in any form."
The Obama administration counters that a shift to green energy would help both the planet and the economy by creating a new source of high-paying jobs.
Senator John Kerry, a Democrat from Massachusetts who led last year's climate bill, hit back that Barrasso's proposal "puts the public health at risk and encourages the outsourcing of American jobs."
Democratic Senator Robert Menendez of New Jersey accused the Republicans of doing the bidding of industrial emitters, saying: "The health of our children must come before the interests of polluters."
The Republicans swept November elections but the Democratic Party still controls the Senate and the White House, meaning that Obama can veto any effort to roll back powers on emissions.
But the proposal is another sign that it will be virtually impossible for the Democrats to pass legislation on climate change, which failed to pass even when the party controlled the House of Representatives and held a wider majority in the Senate.
The battle in Congress leaves the Obama administration with a delicate task as it tries to persuade China and other growing polluters to agree to a global plan on greenhouse gases.
Obama has pledged that the United States, the second largest emitter, will take action alongside other nations to fight climate change.
Last year was the hottest on record and one of the worst in decades for natural disasters, according to scientists.