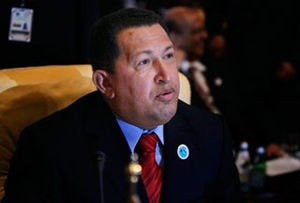 Venezuelan leader accuses U.S. of meddling
Briefed by Libya's Gaddafi and Syria's al-Assad
Venezuela's firebrand leader Hugo Chavez accused the United States on Sunday of a "shameful" role in the Egyptian crisis and of hypocrisy for supporting, then abandoning strongmen round the world.
Chavez, Washington's leading critic in the Americas, said he had spoken to Libyan leader Muammar Gaddafi and Syria's President Bashar al-Assad for a briefing on the protests in Egypt and elsewhere in the Arab world.
"In Egypt, the situation is complicated, Chavez said.
"Now you are seeing comments from Washington and some European nations. As President Gaddafi said to me, it's shameful, it makes you kind of sick to see the meddling of the U.S., wanting to take control."
The United States has urged an orderly transition to democracy in Egypt to avoid a power vacuum but has stopped short of calling on President Hosni Mubarak, an ally of three decades, to step down.
The socialist Chavez has generally cast himself as pro-Arab and opposed to the policies of Israel and the United States.
But in brief comments carried on state TV, he avoided any further specific comment on Egypt, saying only that "national sovereignty" should be respected.
Chavez scoffed at what he said was the United States' chameleon-like foreign policy.
"See how the United States, after using such-and-such a president for years, as soon as he hits a crisis, they abandon him. That's how the devil pays," he said.
"They didn't even give a visa or anything to the president of Tunisia," he said, referring to President Zine al-Abidine Ben Ali, who lost power this month after failing to quell the worst unrest of his two-decade rule.
Washington and other Western powers have been caught off guard by the popular uprising on Arab streets after long relying on autocratic regional rulers as a bulwark against Islamic extremism.
Chavez spoke after inspecting an army ammunitions depot where predawn explosions killed one person and injured another three, lighting up the sky and terrifying locals.
Though the incident appeared to be an accident, the government said it was not discounting any cause given the depth of feeling against Chavez by political opponents.
Venezuelans have been following events in the Arab world closely, with some Chavez foes privately expressing hopes for a similar uprising against him after nearly 12 years in power.