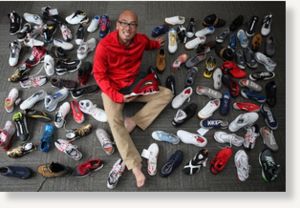 Chinese athletic shoemaker Li-Ning knew it couldn't "out-Nike" Nike, especially in the sporting giant's own backyard. So the company is going low-budget edgy in its expansion to the U.S, using an irreverent YouTube video to play up its heritage while taking a lighthearted dig at the company name shared with its high-profile founder.
Li-Ning is among the first Chinese consumer product brands trying to build a following in the U.S., seeking to grab a slice of its saturated but highly coveted market. As China's economic might increases - it last year overtook Japan as the second-biggest economy after the U.S. - its companies are increasingly confident about expansion overseas. But corporate China has yet to produce a brand with the global name recognition of the likes of Apple, Sony or Google.
"It's a process of finding out - while staying true to our heritage, our brand - what side of our DNA is going to resonate with the American consumer," said Jay Li, general manager for Li-Ning International. "We're still searching, to be perfectly honest with you. And we're not in a hurry."
Americans might remember Li Ning (pronounced lee-NING) as the final torchbearer during the opening ceremony of the 2008 Beijing Olympics - the former gymnastics gold medalist who "ran" along the opening in the stadium roof while suspended by wires.
His namesake company is a top domestic brand in China's lucrative athletic shoe and apparel industry, with more than 7,900 stores across the country. Though it has forecast slumping sales and a one percentage point decline in gross profit margin in 2011, CEO Zhang Zhiyong recently told the Wall Street Journal that Li-Ning plans to invest $10 million in U.S. operations this year.
"Our founder Mr. Li Ning has always said his vision was never about building China's Nike, it's about building the world's Li-Ning," Li said. "You can't be global without having a legitimate claim of market share in the most mature sporting goods market."
There are significant hurdles to overcome: Americans are still smarting from the recession and spending less. Chinese goods are widely regarded as shoddily made, knockoffs or even dangerous. Li-Ning's logo recently underwent a redesign, but many consumers may still see a strong resemblance with the Nike "swoosh."
"The way to fight the perception is to continue rolling out your own world-class products and that perception will go away," Li said.
He would not provide sales figures for the U.S., where Li-Ning products are sold online and through a few select retailers, but said international operations made up only 2 percent of the company's total revenue.
Expansion into the U.S. is "important for them because if they show they have retail presence in the U.S. it helps them not only sell there but it helps them sell in their home market in China and wherever else they go," said Ben Cavender, associate principal at Shanghai-based China Market Research Group which has studied Li-Ning. "They can say, 'Look, we really are an international brand.'"
The U.S. expansion began in earnest in 2007 with the opening of a R&D center and design studio in the Portland, Oregon, area, heart of the U.S. athletic shoe industry where Nike is headquartered and Adidas has a regional office.
Li-Ning's U.S. staff includes about 30 people, veterans of companies like Nike, Adidas, Converse and Columbia. In comparison, more than 6,000 work at Nike's headquarters just outside town.
Products sold in the U.S. include equipment and apparel for Asian-dominated sports like pingpong and badminton, niche areas where Li-Ning is an established leader. Its running shoes have debuted in specialty shops, with the aim of attracting avid runners who are concerned more about performance than brand name.
But it's with street culture-influenced basketball shoes that Li-Ning may be able to score its breakthrough. Endorsement deals with NBA players like Shaquille O'Neal, Baron Davis and Evan Turner have so far been key to building awareness among image-conscious consumers.
Li-Ning has a quality product but "we need to bring in the cool factor, the street legitimacy, the street cred. Bring all these elements together and fuse them into the product. It's a systemic project and we are working on it," Li said.
That's the thinking behind the YouTube video, featuring a Chinese Li-Ning import agent who has to convince two suspicious U.S. customs officials that the new F2 sneaker is a real shoe. It is a humorous take on real events involving a shipment of F2s that got stuck in U.S. customs because of questions over how to declare the components of a shoe made almost entirely of rubber-like foam material.
The YouTube import agent protests, "They're shoes! Li-Ning!" prompting one officer to snarl, "I'm Li-Ning toward kicking your ass!"
Created by L.A. ad agency Zambezi, the video has received about 40,000 views since December and is a way of getting some attention with limited resources.
There probably won't be a sequel - the Portland customs office called to complain about being in the video and Li's office pledged not to revisit the topic again.
For now, Li-Ning's baby steps are showing encouraging results. Cavender pointed out that one industry insider has found some Li-Ning products to be better quality than Adidas products. And the colorful, sometimes cartoon-like designs are turning heads, even if they haven't yet translated into massive sales.
"People are actively asking about it every time they walk in and see it," said Frank Pacifio, manager of a Champs Sports shoe store in Wayne, New Jersey, which sells two to 10 pairs of Li-Nings a week. In that time the store sells 10 to 25 pairs of its most popular shoe, the Nike Air Max 2010.
"A lot of people try the (Li-Ning) shoe on to see how it feels but people are just accustomed to the Nikes, the Jordans," Pacifio said. "People are so used to what they've had, you never want to take the leap to the other side."
Li remains confident, pointing to the mainstream acceptance of other Asian companies in the U.S.
"A few brands are attempting it, but no one has come out as a dominant Chinese brand in any industry yet," he said. "I always optimistically look back on the Japanese brands in the '50s and '60s and the Korean brands in the '80s and '90s. It's our turn. We'll get there."