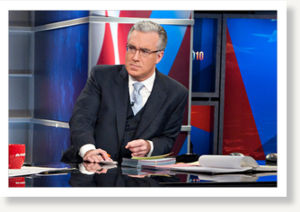 9:43 p.m. Updated Keith Olbermann, the highest-rated host on MSNBC, announced abruptly on the air Friday night that he is leaving
Countdown with Keith Olbermann
immediately.
The host, who has had a stormy relationship with the management of the network for some time, especially since he was suspended for two days last November, came to an agreement with NBC's corporate management late this week to settle his contract and step down.
In a closing statement on his show, Mr. Olbermann said simply that it would be the last edition of the program. He offered no explanation other than on occasion, the show had become too much for him.
Mr. Olbermann thanked his viewers for their enthusiastic support of a show that had "gradually established its position as anti-establishment."
In a statement, MSNBC said : "MSNBC and Keith Olbermann have ended their contract. The last broadcast of
Countdown with Keith Olbermann
will be this evening. MSNBC thanks Keith for his integral role in MSNBC's success and we wish him well in his future endeavors."
MSNBC announced that
The Last Word with Lawrence O'Donnell
would replace
Countdown
at 8 p.m., with
The Ed Show
with Ed Schultz taking Mr. O'Donnell's slot at 10 p.m. Mr. Olbermann did not discuss any future plans, but NBC executives said one term of his settlement will keep him from moving to another network for an extended period of time.
NBC executives said the move had nothing to do with the impending takeover of NBC Universal by Comcast.
Mr. Olbermann had signed a four-year contract extension in 2008 for an estimated $30 million. He hosted
Countdown
at 8 p.m. since 2003 and it became the foundation of the channel's surge to status as the second-ranked news channel on cable television, after Fox News, surpassing the one-time leader CNN.
Mr. Olbermann's outspoken, and sometimes controversial, support of liberal positions and Democratic candidates redefined MSNBC from a neutral news channel to one with that openly sought to offer viewers on the left their own voice, much as Fox News has done so successfully for an audience of viewers with conservative opinions.
Mr. Olbermann challenged Fox News publicly on numerous occasions, especially the top-rated cable host Bill O'Reilly, whom he regularly tweaked and frequently placed in the top circle of infamy on a segment Mr. Olbermann called "The Worst Person in the World."
Ratings for his show grew, though he never really approached the level of popularity Mr. O'Reilly has achieved. But he helped grow the MSNBC liberal brand by his frequent invitations to one guest, Rachel Maddow, who was eventually offered her own show on MSNBC.
Ms. Maddow became the 9 p.m. host following Mr. Olbermann and has built such a successful show that some NBC executives felt less concerned about losing Mr. Olbermann as the signature star of the network.
According to several senior network executives, NBC's management had been close to firing Mr. Olbermann on previous occasions, most recently in November after he revealed that he had made donations to several Democratic candidates during the 2010 congressional elections - one of them, coincidentally, was Rep. Gabrielle Giffords, who has been the subject of many of his recent shows after being shot in an assassination attempt in Tucson on Jan. 8.
The top MSNBC executive, Phil Griffin, said the donations had violated NBC News standards and ordered Mr. Olbermann suspended. His fans responded with a petition to reinstate him that attracted over 250,000 signatures. Mr. Olbermann returned two days later. In his response he said the rules on donations had been "inconsistently applied."