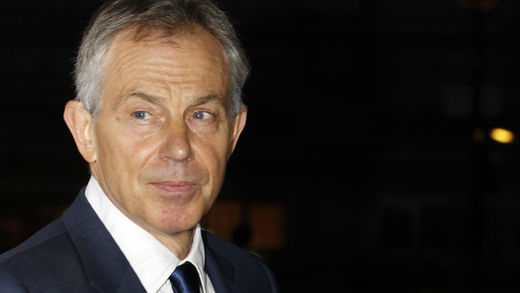 Britain's ex-prime minister Tony Blair returned to the country's inquiry into the Iraq war Friday, after witnesses raised doubts about sections of his testimony from a year ago when he made a defiant defence of the decision to topple Saddam Hussein.
Blair arrived several hours before he was due to give evidence to the five-member inquiry panel, as a group of about 100 anti-war demonstrators gathered outside London's Queen Elizabeth II conference centre to denounce the former leader's decision to join the 2003 U.S.-led invasion.
Protesters shouted "Tony Blair, terrorist," an echo of massive protests in London in the buildup to the conflict almost eight years ago.
Blair, wearing a dark blue suit and tie, flashed a wide smile at the panel as he began his testimony and confidently fielded questions.
Offering a familiar argument from his session a year ago, Blair said he believed there were two, competing world views in the aftermath of the Sept. 11, 2001, attacks on the United States. Some, including then-French President Jacques Chirac, believed the threat from terrorism could be managed without the need for major conflict, Blair said.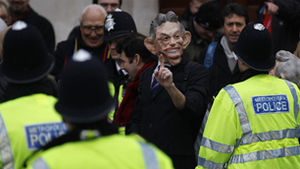 "The other view, which is my view, is that this thing is deep, its potential to wreak enormous and devastating damage is huge, and we have to confront it," he told the panel.
In a letter to his chief of staff, Jonathan Powell, on March 17, 2002 - released Friday by the inquiry - Blair acknowledged he had a huge task to persuade Britain it was the right option to be "gung-ho on Saddam."
"The persuasion job on this seems very tough. My own side are worried. Public opinion is fragile. International opinion, as I found at the EU, is pretty skeptical," Blair wrote.
"People believe we are only doing it to support the U.S., and they are only doing it to settle an old score," the note continued.
"So we have to reorder our story and message. Increasingly, I think it should be about the nature of the regime," he wrote.
Blair's administration has faced repeated criticism that it deliberately overstated the case for war, and that officials misrepresented intelligence to bolster public support for the conflict.
His recall to clarify evidence he offered in a hearing last January follows contradictory claims made to the panel by key officials, diplomats and military officers.
The atmosphere had already been soured after it was confirmed Tuesday that British authorities had refused to publish notes Blair sent to then-U.S. President George W. Bush in the runup to the conflict.
Critics have long accused Blair - now envoy to the Quartet of Middle East peacemakers - of pledging slavish support to Bush and misleading Britain on the need to join the conflict.
Concerns about legality of war.
Transcripts released over recent days of a small number of hearings the inquiry has held in private also detailed the concerns of Britain's ex-top legal official over statements Blair made about the legality of the war.
In a written statement released ahead of his live evidence, Blair acknowledged he had not discussed legal concerns raised in Britain with Bush.
"I was not going to go into this continuing legal debate, internal to the U.K. government. I repeated my strong commitment, given publicly and privately, to do what it took to disarm Saddam," Blair said in the statement.
Much evidence heard since hearings began in November 2009 had focused on accusations that Blair offered Bush support for an invasion as early as April 2002, a year before legislators approved Britain's involvement.
Friday's hearing was also expected to challenge Blair over evidence from Eliza Manningham-Buller, the head of domestic spy agency MI5 between 2002 and 2007, on Iraq's military capability.
She told the panel the belief Iraq might use weapons of mass destruction against the West "wasn't a concern in either the short term or the medium term to either my colleagues or myself."
Blair may also be pressed on Manningham-Buller's claim that the invasion of Iraq had likely provided an impetus to al-Qaeda. In his statement, Blair insisted there had been no reason to suspect the network would seek to join attacks on U.S. and British troops.
"There was no sense the AQ [al-Qaeda] would mount a full-scale operation in Iraq after the removal of Saddam," Blair wrote.
The five-member panel was appointed by the British government to examine the case made for the war and errors in planning for post-conflict reconstruction but it won't apportion blame or establish criminal or civil liability.
The panel is expected to offer recommendations by the end of the year.