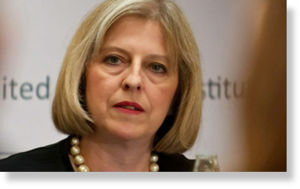 Human rights groups across the world attack one of the 'most serious violations' of natural justice in developed democracies
A powerful coalition of human rights groups has intensified pressure on the government to abandon its use of control orders, as ministers continue to wrangle over whether to scrap the controversial counter-terrorism measure.
An international alliance of civil liberties organisations has united to condemn the UK for presiding over one of the "most serious violations" of natural justice in any developed democracy.
Campaigners from the Middle East, North and South America, Africa and Europe - including the UK human rights group Liberty - have signed a statement condemning punishment without charge or trial as an affront to democratic values. Among the signatories are the American Civil Liberties Union, Canadian Civil Liberties Union, the Kenya Human Rights Commission, Argentina's Centro de Estudios Legales y Sociales, the Hungarian Civil Liberties Union, the Association for Civil Rights in Israel and South Africa's Legal Resources Centre.
Their opposition emerges as key figures in the coalition remain divided over the future use of control orders, with Nick Clegg refusing to back a compromise although several options are understood to remain on the table. The Lib Dems pledged to scrap control orders before the general election, with critics comparing them to a form of house arrest based on secret evidence.
Tensions surrounding the review, which is being conducted by the office of counter-terrorism and security inside the Home Office, remain fraught. Home secretary Theresa May is thought to be sympathetic to arguments that the orders should be kept in some guise.
Lord Carlile, the government's reviewer of terror legislation, has stressed a need to retain the powers of curfew, and restrictions on the internet and people terror suspects meet, although he has conceded it might be possible to create similar alternatives to control orders.
One compromise understood to have been offered to try and placate Clegg and senior Lib Dems is a ban on travel for terror suspects, though a Home Office spokesman insisted that "no decisions have been made". Travel bans have been applied to other potential offenders such as those suspected of planning football violence. Other restrictions that might be backed by the Lib Dems include limits on the use of mobile phones and computers by suspects, with enhanced surveillance rather than lengthy curfews.
A substantial number of Tories remain staunchly opposed to new-style "control orders-lite". Other sticking points include requests from the Lib Dems that any future terror suspects undergo the new regime as a precursor to prosecution rather than as an alternative. The orders, which can include 16-hour curfews, electronic tags, travel and phone curbs, came into force in 2005. There are currently eight terror suspects bound by the orders.
Proponents of the measures know that any move to continue with the orders in their current form will not only widen schisms within the government but also prompt a sustained backlash from human rights campaigners.
Shami Chakrabarti, the director of Liberty, said: "Condemnation of control orders from civil liberties organisations across the world shows just what an international embarrassment they have become. Punishment without charge or trial is the trademark of despots. A government that has wrapped itself in the language of liberty cannot allow this regime to continue - five years of house arrest is enough."
Meanwhile the Irish Council for Civil Liberties has issued a statement "deploring the persistence of the use of control orders in the United Kingdom". It added: "In any area, such as the island of Ireland, which has lived with the corrosive effects of terrorism, it has become abundantly clear that applying measures of this sort does nothing to increase the safety of the general population. On the contrary, the mere existence of prolonged forms of detention without trial itself becomes a rallying point for those who wish to recruit people minded to subvert democracy."