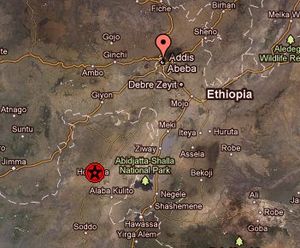 With thanks to a number Ethiopian readers of Earthquake-Report.com we are able to develop a view on what happened exactly during yesterdays earthquake in Ethiopia. We truly thank our readers for their involvement.
The Ethiopian Addis Abeba university published a report that the earthquake occurred in and around Hossana and had a Magnitude of 5.3. It happened at 3:15 local time.
Following ENA (
Ethiopian News Agency
) the earthquake lasted 19 seconds and was felt very well in the greater Hossana area.
Some traditional old earthen houses were demolished as a result of the earthquake
Some houses erected with modern materials were left with cracks in the walls.
No people were killed and it is uncertain if people have been injured.
Here are a few of the reports from our readers (they can also be read below our main article published shortly after the earthquake)
"One of the cities in the South west part of Ethiopia was also shaking yesterday in the afternoon.....we were a bit troubled and run out of our houses but it was just only for few seconds and it was not much visible......"

"OUR EARTH WAS SHAKED FOR A A SINGLE MOMENT. IT WAS NOT AS MUCH DANGEROROUS, BUT IT IS MY FIRST TIME TO SEE SUCH. NO INJURIES OR LIFE AFFECTED."

"My brother called me yesterday from hossana. there was aprroximatly 5 sec earth quake around hossaena. some building glasses destroyed and and a littil deformation on buildings. there was minor injures. the earthquake powered to damage house hold furnitures on the shelfs."
Link
to the Ethiopian earthquake location in our Quake-Maps.com
Read also our
original reporting
from yesterday
Most important Earthquake Data
:
Magnitude: M 5.1
UTC Time: Sunday, December 19, 2010 at 12:14:24 UTC
Local time at epicenter: Sunday, December 19, 2010 at 03:14:24 PM at epicenter
Depth (Hypocenter): 9.8 km
Send an "earthquake experience report" for this earthquake
Geo-location(s) (horizontal uncertainty +/- 15.3 km):
Approx. 10 km from Hossana, Fonka and Jajura
200 km (124 miles) SW (215°) from ADDIS ABABA, Ethiopia
219 km (136 miles) N (9°) from Gidole, Ethiopia