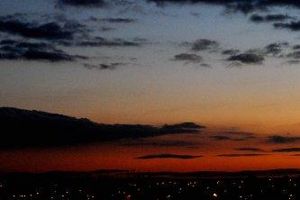 What was it?: No one seems to have seen what caused the humming sound over parts of Hull and Holderness in the early hours of this morning.
Mystery surrounds the source of a loud "humming" noise heard by Hull residents last night.
The
Mail
has received several calls from readers from across the city who heard the noise at about 2am.
Some have speculated the noise was caused by a low-flying military aircraft.
But Damien Elvin, spokesman for the Ministry of Defence, said it was not aware of any military aircraft in the area.
Mr Elvin said he had made enquiries with the MoD's Low Flying Complaints and Enquiries Unit.
He said: "We have no confirmed activity in that area."
Others have suggested the noise could have come from Humberside Police's helicopter.
But a force spokeswoman confirmed: "Between 1.15am and 5.12am the helicopter was in Scunthorpe."
Mail
reader Mike Covell posted a message on
facebook
.
He wrote: "About 2 o'clock this morning a loud noise was heard over east Hull, possibly further, and it appeared as though it was a large aircraft with decent sized engines struggling to gain altitude.
"People reported all the usual stuff like UFOs and even a possible terrorist attack, but whatever it was it gradually grew quieter and quieter.
"There are no records of such a flight experiencing troubles over Hull and as far as I can ascertain there were no low-flying commercial airliners at that time.
"What was odd about the sound is the duration, in that it appeared to be over east Hull for approximately 10 minutes. Efforts to gain a visual on the craft failed."
Another reader, Leah Simpson, added: "It was really loud in Hedon. Quite spooky."
* Do you know what the noise was? If so, call our newsdesk on 01482 315194.
* We've also been discussing the noise on our
Facebook page
.