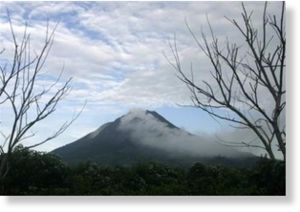 A volcano erupted on the Indonesia island of Sumatra on Sunday for the first time in four centuries, sending smoke 1,500 meters (about 5,000 feet) into the air and prompting the evacuation of thousands of residents, officials said.
There were no reports of casualties so far and aviation in the area was unaffected.
Mount Sinabung in the north of Sumatra began erupting around midnight after rumbling for several days and lava was overflowing its crater, Surono, head of Indonesia's vulcanology center, told Reuters. The volcano had been placed on red level, the highest alert.
"Despite decreasing activities since the eruption, we haven't downgraded the status level," said Surono, who goes by one name, like many Indonesians.
"This is the first time since 1600 that Sinabung erupted and we have little knowledge in terms on its eruptive patterns and general forms."
Authorities evacuated at least 12,000 people from high risk areas on the slopes of the 2,460-meter volcano to temporary shelters. The area around the volcano is largely agricultural.
The Health Ministry put health posts on standby and distributed face masks, though there were no reports of casualties, according to Mudjiarto, head of the health ministry's crisis center.
The nearest big city to the volcano is Medan and there were no disruptions to flights.
Indonesia is located on the so-called Pacific Rim of Fire, an arc of volcanoes and geological fault lines surrounding the Pacific Basin.