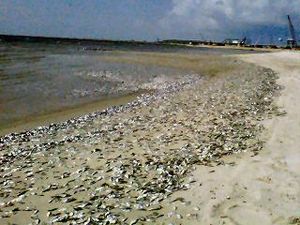 Something besides oil washed ashore along a section of beach in Gulfport. Construction workers at Jones Park called WLOX Monday morning with news about a fish kill.
You could smell the problem before seeing it. Dead menhaden, or pogeys, washed ashore along the beach.
The large fish kill created quite a mess. Piles of the small, silvery fish cover much of the shoreline just east of Jones Park from 15th Avenue to Moses Pier.
While many laid baking in the late morning sun, others were pushed ashore by the gentle surf.
It might make sense to blame the oil spill for the fish kill or at least consider oil or dispersants in the water for the death of these pogeys. But Harrison County's sand beach director, isn't so sure.
"Probably a red tide. It's possible it could be something oil related. It's hard to say right now. DMR is going to send personnel out here to make that determination and it's important. If it's oil related, then the contractor for BP would be responsible for picking it up. If it's not, then we'll dispatch a county crew down here to get it," said Bobby Weaver.
Dead menhaden have washed ashore on Harrison County's beach in recent years. But those kills were during fishing season, when nets were torn on a pogey boat. Right now, fishing is closed because of the oil.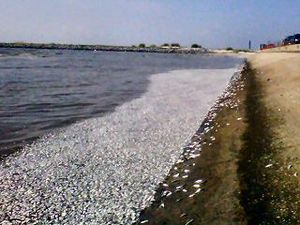 Our news video and pictures can give you some sense of how many dead fish have washed ashore, but what can't be conveyed is the nasty smell of the rotting pogeys.
One construction worker in nearby Jones Park told WLOX News he smelled it, first thing Monday morning.
"Well, we smelled that stench. That rotten smell. We had no idea where it came from. Then we saw you guys come out here and figured it out," said David Carter, who's part of the construction crew on the nearby beach comfort station.
Several construction workers took a closer look at the smelly mess during their lunch break.
"It's a mess. I want to know what it's from," said Carter.
By early afternoon, sand beach crews began scooping up the dead fish and raking the sand.
The clean-up proceeded with the cause still unknown. DMR took several fish samples for testing. The test results will take at least a week.
The dead fish in the sand were scooped off the beach, loaded onto a dump truck and taken to the landfill.