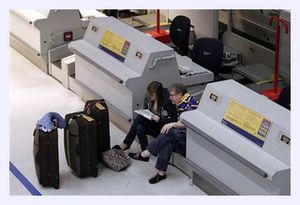 London - Ash clouds drifting from Iceland's erupting volcano disrupted air traffic across Northern Europe Thursday, forcing airports to close and the cancellation of hundreds of flights in Britain, Ireland and the Nordic countries.
In Iceland, hundreds have fled from floodwaters rising since the volcano under the Eyjafjallajokull glacier erupted Wednesday for the second time in less than a month. As water gushed down the mountainside, rivers had risen by up to 10 feet by Wednesday night.
The volcano was sending up smoke and ash that posed "a significant safety threat to aircraft," Britain's National Air Traffic Service said, as visibility is compromised and debris can get sucked into airplane engines.
U.K. airport operator BAA told NBC News that all London airports would be closed and offer no services from 11:30 a.m. BST (6:30 a.m. ET) due to safety issues involved with the volcanic ash.
They were due to confirm if this meant no flight arrivals and departures including long-haul flights from the U.S., NBC reported. Some flights could be turned around mid-flight.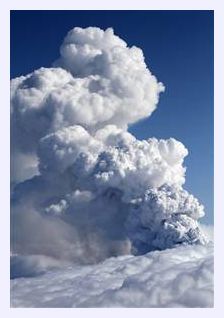 Airports at Aberdeen, Edinburgh, Glasgow, Newcastle and Manchester in the U.K. were also affected, along with others in Scandinavia.
"Due to ash, air traffic on the sea area between Scotland, Norway, northern Sweden, Britain, Norway and northern Finland is being limited," Finland's airport agency Finavia said.
Flights at London's Heathrow, Gatwick and other airports were cancelled and there were no flights in or out of Scotland, with Aberdeen, Edinburgh and Glasgow airports all closed.
Belfast airport in Northern Ireland and Newcastle airport in the north of England also were shut.
British budget airline easyJet said the plume of ash, which is expected to move south, was causing "significant disruption" to all airlines operating flights to and from Britain.
Hundreds of flights in and out of other British airports, including Bristol, Cardiff, Manchester, East Midlands and London's Stansted and Luton were cancelled, although the airports remained open.
Finnair said air traffic had been shut down in northern parts of Finland.
Norwegian news agency NTB said air space in northern Russia, parts of the United Kingdom and Denmark also could be affected.