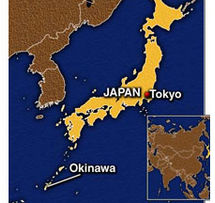 A strong earthquake with a magnitude of 7.3 jolts south of Japan in the Pacific Ocean, the government's Meteorological Agency says.
The quake struck the southern Japanese island of Okinawa, 84 km east of Naha, and about 1,600 km south of Tokyo, at 5:31 a.m. local time Saturday (2031 GMT Friday), at a depth of 29 km below the seabed.
A tsunami warning for waves of up to two meters in some areas was issued, the agency said.
There are no reports yet of casualties or damage.
Earthquakes are a common occurrence in Japan, one of the world's most seismically active areas. The country accounts for about 20 percent of the world's earthquakes of magnitude 6 or greater.
In October 2004, an earthquake with a magnitude of 6.8 struck the Niigata region in northern Japan, killing 65 people and injuring more than 3,000.
That was the deadliest quake since a magnitude 7.3 tremor hit the city of Kobe in 1995, killing more than 6,400.