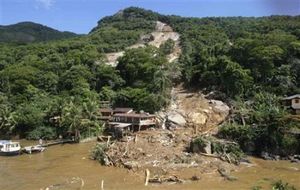 Mudslides and flooding killed at least 44 people in Brazil's Rio de Janeiro state and authorities said on Friday that the death toll could climb with more heavy rains in the forecast.
Twenty-two people were found dead on Friday after a small hotel and surrounding homes collapsed in the beach resort of Angra dos Reis, one of Brazil's most exclusive tourism destinations, the Rio de Janeiro state's civil defense said.
Television footage showed the Sankay hotel and a number of homes in Angra buried under a mountain of mud. Rescue teams, aided by helicopters and navy boats, were struggling to reach the area where the hotel collapsed, Pedro Machado, head of the firefighters' corps, told GloboNews television.
Civil defense authorities said about 40 people were registered at the hotel. They told Reuters heavy rains forecast for the coming days could make rescue work harder and trigger more mudslides.
"Rescue crews told us there is just so much mud and water there which, coupled with that fact that the site is one of very difficult access, force them to remove all the mud manually basically, without the aid of heavy equipment," a civil defense spokeswoman said in a phone interview.
On Thursday, a heavy downpour that triggered mudslides and floods killed as many as 19 people across Rio state, Brazil's third most populous.
Rio has Brazil's biggest oil reserves and is a top tourism destination. Angra, the Ilha Grande island and other cities on the coast are often visited by foreigners at this time of the year.
President Luiz Inacio Lula da Silva offered Rio state authorities immediate assistance from navy patrols to help speed up rescue efforts, state Vice Governor Luiz Fernando Pezao told GloboNews.
Local media said most of the deaths in prior days occurred as shacks located in some poor areas collapsed. Heavy rain was forecast for greater Rio de Janeiro, Brazil's second-largest city.
Intense rainfall also triggered mudslides along some points of the Rio-Santos highway, with traffic halted near the historic city of Paraty, authorities said.