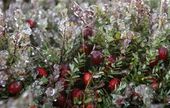 Winnipeg, Manitoba - The multiple frosts that have blanketed Western Canada in the last week are the most widespread in the top canola-growing province of Saskatchewan in at least five years, the Canola Council of Canada said on Tuesday.
Two overnight frosts last week have already resulted in some Saskatchewan farmers reseeding their canola, a Canadian variant of rapeseed, said Jim Bessel, senior agronomy specialist in the province for the industry group Canola Council.
Other farmers are waiting to see growth signs that would suggest their canola plants have survived the frost, which lasted for up to five hours at a stretch. That new growth is slow to appear with generally cool temperatures holding crop development behind schedule.
"We just don't see a lot of activity happening from a crop development perspective," Bessel said. "(The extent of frost damage) is a really difficult one to call right now ... It's very erratic."
In Manitoba, the frost is the worst in memory for its frequency and area covered, said Derwyn Hammond, the province's senior agronomy specialist for the Canola Council.
"Certainly (it's) the worst year I've seen," said Hammond, who has worked for the Canola Council for 15 years.
With deadlines for full canola crop insurance ranging between June 10 and 20 in Manitoba and Saskatchewan, Hammond said he expects most farmers will choose not to reseed.
Cool weather may have actually saved some of the new crop that was at such an early growing stage that it wasn't yet vulnerable to frost, said Doon Pauly, crop specialist for the government of the western province of Alberta.
"It's the equivalent to a frost in the second or third week of May," Pauly said. "That's the bright side."
The downside of the cool weather is that it has left crops in general well behind schedule, he said. The Alberta canola crop is two to three weeks behind development, Pauly said, while the Canadian Wheat Board estimated on Monday that Western Canada wheat and barley crops are at least 10 days behind.
Fields with frost damage can develop bare pockets or a thinned-down plant population that gives weeds more room to grow, said Pauly, adding that some Alberta areas reported frost as recently as Tuesday morning.
But despite frosts and cool weather, it's too early to say if canola yields will suffer, he said.
"Canola is so plastic. If the remainder of June we get good moisture and reasonable heat, the yields can recover."