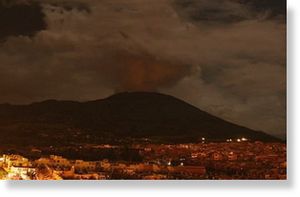 Galeras volcano in southern Colombia erupted on Friday for the second time in less than a week, sending ash raining down but no causing no victims or damage, the Colombian Institute of Geology and Mines said.
A forceful eruption began at 7:05 am (1205 GMT), residents reported from the city of Pasto, at the foot of the volcano.
The regional alert system was raised to its highest level, the institute said in a statement.
The eruption was "accompanied by shock waves," generating vibrating effects and audible rumbles, the institute said.
Speaking on Caracol radio emergency official Luz Amanda Pulido reported ash was falling and that contingency evacuation plans were in place if the situation worsens.
It follows a similar eruption late Saturday at the volcano, which is located near the border with Ecuador. That eruption caused no casualties or damage, although emergency procedures began to evacuate 8,000 residents.
The 4,270-meter (14,009-foot) Galeras has stirred sporadically in recent years. It erupted in January 2008, causing no casualties, but a 1993 eruption claimed the lives of nine people.