Albany, NY - Thousands of utility customers around the Northeast awoke without power Wednesday, a day after the season's first big snowstorm blew through the region.
The wet snow fell on trees still covered in fall leaves, and its weight, combined with gusty wind, sent limbs crashing down on power lines.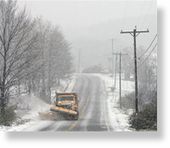 In upstate New York, more than 40,000 customers remained without power early Wednesday, most of them in the Mohawk Valley, Adirondacks and the Catskills, according to statements by utilities National Grid and New York State Electric & Gas.
The National Weather Service reported snowfall totals up to 13 inches in northern New York, to as much as 15 inches along the northwestern edge of the Catskill Mountains.
Lower elevations and coastal areas were soaked by heavy rain.
In New Jersey, crews worked to restore power to more than 41,000 customers, mainly in the northern part of the state.
Jersey Central Power and Light said most of its outages are in Morris, Warren, Hunterdon and Sussex counties. Service may not be restored until late Wednesday night because downed trees are hindering access to power lines, the utility said.
Accumulations from the unusual wintry weather include about 14 inches at New Jersey's High Point State Park and about a foot in Lebanon Township, the National Weather Service said.
In Pennsylvania, parts of the Pocono Mountains were under a foot of snow, but an earlier wind advisory has been canceled.
A lake effect snow warning for Wednesday has been posted for northwestern Pennsylvania, with accumulations of up to 12 inches possible in higher elevations.
More snow and wind was in Wednesday's forecast for Vermont as the storm worked its way through the northern part of the state.
The National Weather Service posted a winter storm warning for heavy snow in Orleans and eastern Franklin counties through Wednesday night, with 3 to 9 inches accumulation. The northern central and eastern parts of the state also were expected to see more snow Wednesday.
In northern West Virginia, students in Tucker County got Wednesday off after the mountainous region received 6 inches of snow that created icy conditions. Two years ago, the county received 6 inches of snow on Oct. 24.
There was even snow in western North Carolina. One school system in the state's mountains was closed Wednesday because of slick roads after 1 to 3 inches of snow fell a day earlier. The earliest known snowfall in the Asheville, N.C., area was less than a half inch on Oct. 1, 1952, the weather service said.