Irene LoBaido has never hunted and has never shot an animal, but today, she packed a Smith & Wesson .357 Magnum in a holster on her left hip.
LoBaido was among local residents alarmed by a reports of an African lion on the loose.
"I feel I'm going to be carrying this until it's (found)," LoBaido said. "I hope I never have to use it, but I care about my horses and dogs."
LoBaido, 49, said she loaded her gun with hollow-point bullets to make certain she could take down a lion if needed.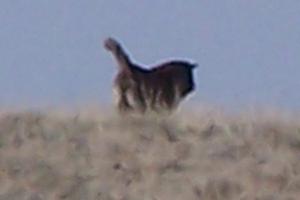 ©El Paso County Sheriff's OFfice
The creature was large and shaggy, but only photographed at a distance.
Authorities took the first report of a lion sighting at about 7:35 a.m. and an area resident snapped a photo of the beast at about 70 minutes later.
Some, however, debated whether it was a big cat or just a big dog.
"We have people on both sides of the fence," said Lt. Lari Sevene of the El Paso County Sheriff's Office. "Some say it's a big dog. And some say it's an African lion."
The search was called off about 3:30 p.m. without any confirmation of what people were seeing.
There have been multiple sightings by multiple residents, searchers said.
Paw prints left in the area by the creature are about 6 inches wide, said Michael Seraphin, of the Colorado Division of Wildlife.
"These tracks were not from a big dog, let's put it that way," Seraphin said.
An El Paso County Sheriff's Office helicopter joined dozens of people who were searching on the ground, and bloodhounds also were brought in to pick up a scent.
Reverse 911 calls were made to area residents warning of the possibility of a lion on the loose.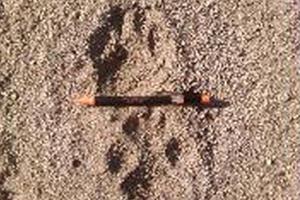 ©El Paso County Sheriff's OFfice
Investigators examined large pawprints, to try and determine if the animal spotted was really an African lion.
The reports had some residents fearing for their safety as well as their family's and their pets' safety.
"If it was a mountain lion, it wouldn't be such a big deal because they are already around here," said Jennifer Glass, who is keeping her 3-year-old son in the house today. "But an African lion is a little different because they are not native, and it's a little concerning."
Glass also has corralled six horses and a pony as a precaution, she said.
At about 3 a.m. today, LoBaido said she heard strange noises outside her rural property, the noise of a loud, unusual animal.
When the 911 warning calls came several hours later, the noises made sense, she said.
Julie Walker, assistant director of a local big-cat sanctuary, the Big Cats of Serenity Springs, joined the hunt at about 8 a.m. and covered a 4- to 5-square-mile area, she said.
"From all of the evidence on our side, it appears to be a dog," Walker said.
The sanctuary, located east of Colorado Springs, has about 130 big cats on its property, including 13 lions, Walker said. None of its cats are missing.
If necessary, the refuge would be willing to add another.
She said: "If it's a lion, we want to take it down safely and take it to the sanctuary."