A plague of caterpillars has defied the odds by returning for a second year in succession to eat away miles of grass in the Lake District.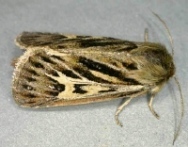 ©Unknown
The antler moth caterpillars, which are about two inches long, have hatched in their millions in the Helvellyn and Skiddaw areas.
The phenomenon, which has always been thought to occur once in every eight to 10 years, has left wide expanses of dead grass where sheep are normally grazed. But what is puzzling the experts is the fact that there was also an invasion of caterpillars last year.
For the first time in living memory, the plague of caterpillars has been followed by a second epidemic in the subsequent year.
David Bland, who farms West Head Farm in Thirlmere with his son Gavin, said: "On Helvellyn, 60 per cent of the grazing has gone on my side of the fell with a large area where there is nothing green growing.
"There are millions of these caterpillars, just like there were last year. I have seen them before over the years, but never two years running. They extend from Brownrigg's Well, near the summit of Helvellyn, to about 1,500ft lower down the fell, just short of the forest around Thirlmere.
"They also appear to have spread further along the ridge to the Dodds and also to areas on the neighbouring peak of Seat Sandal and across the valley to High Raise on the other side of the lake. You can tell where they are by the areas of yellow-white grass.
"It does affect my sheep. They won't graze where the caterpillars are in residence, which means they move further afield and out to adjacent fellside which is unusual and less to be desired.
"Although the lambs they produced in spring seem to be thriving, the mothers themselves aren't quite as fit as they would normally be at this stage after pregnancy. It does seem ironic that we are told not to graze the fells as hard and Mother Nature comes along with this response.
"Maybe the caterpillars find it easier to lay their eggs in the denser grass, left undisturbed by fewer sheep"
Joe Murphy, of Cumbria Wildlife Trust, said that until now the caterpillars have been seen as a natural phenomenon which appear every eight to 10 years.
"It's previously been seen as something that we have to put up with," he said.
"The truth is there has been virtually no research done on the antler moth until last summer. It was then that the Federation of Cumbrian Commoners joined Lancaster University to devise a programme to study the caterpillar."
Fiona Southern, of the federation, said that following a meeting last year with Dr Ken Wilson, an entomologist based at Lancaster University, a questionnaire was sent out to farmers to canvass information to form part of a study by a PhD student at the university.