SANTIAGO - Chile's Llaima volcano, one of the most active in South America, spewed pyroclastic rock 1,300 feet into night skies early on Thursday, spooking residents a week after lava shot down one of its sides.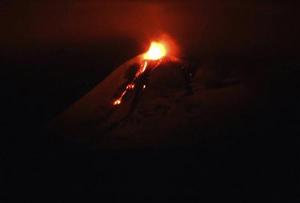 ©REUTERS/Brian Smart
The Llaima volcano spews lava near Cherquenco town July 10, 2008. Chile declared a red alert around the Llaima volcano on July 4, just days after it spewed lava down one of its sides.
Chile's National Emergency Office said the explosions occurred at 3:20 a.m. (0720 GMT), and television images showed the fiery volcanic rocks shooting into the sky above Llaima, about 435 miles south of the capital Santiago.
Local authorities said they were evaluating further evacuations from around the sparsely populated base of the volcano. About 50 people were evacuated last week after lava spilled down one of its slopes.
"All the Emergency Committees of the villages of Vilcun, Melipeuco and Curacautin have been activated. The fire department and the police department are evaluating the zones with the highest risk," the emergency office said in a statement.
Snow-capped Llaima, near Chile's picturesque lake region, erupted violently on New Year's Day, forcing the evacuation of some tourists and residents from the surrounding Conguillio National Park.
The 10,253-foot (3,125-metre) volcano then belched ash and lava in February and saw renewed activity last week.