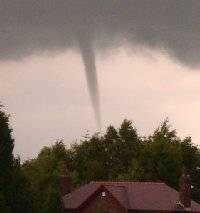 Shaun Kearns was fishing at Bickerstaffe when he took this picture
Evening Post readers were quick to capture dramatic pictures of freak weather in the sky above Merseyside and Lancashire.
Violent downpours resulted in the formation of a funnel cloud - a tornado which does not touch the ground - which was spotted at around 2.30pm on Sunday.
Weather experts said if the funnel had touched down it could have caused severe damage.
The region has been battered by heavy thunderstorms and strong gales - ideal conditions for funnel clouds to form.
Nigel Bolton, a weather forecaster with the Met Office, told the BBC: "We have about 30 to 40 touchdown tornadoes a year in the UK and if this funnel cloud had touched down it could have badly damaged a tree or a shed roof.
"However, because the cloud base was either too high or too weak it couldn't make the ground, so it just hung there in suspension."
Police and Fire Services in Merseyside and Lancashire said there had been no reports of any damage caused by the funnel cloud.