Miami - The first hurricane of the 2008 Atlantic storm season formed on Monday, hundreds of miles (kilometers) away from the United States and the Caribbean islands, the U.S. National Hurricane Center said.
The Miami-based center said it was still too early to determine whether Hurricane Bertha would hit any land, as computer models showed it would eventually start curving to the northwest and then to the north, possibly taking it near Bermuda.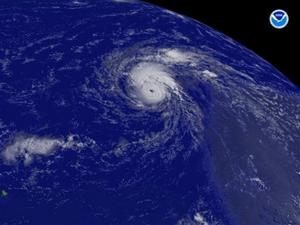 ©NOAA
Bertha
Long-range storm track predictions are unreliable, however, and the hurricane center noted, "It is still not guaranteed that Bertha will recurve."
At about 11 a.m. EDT, Bertha was about 775 miles east of the northern Leeward Islands of the Caribbean and was moving toward the west-northwest at 15 miles per hour (24 kph).
The storm's top winds had reached near 90 mph (150 kph), after passing the threshold at which tropical storms become hurricanes earlier in the day.
The hurricane center said some additional strengthening was expected during the next 24 hours and forecast that Bertha could become a Category 2 hurricane on the five-step Saffir-Simpson scale of hurricane intensity later on Monday.
Energy markets have paid close attention to storms in the Atlantic since the devastating 2004 and 2005 hurricane seasons, during which a number of powerful hurricanes ripped through the Gulf of Mexico, toppling oil rigs and severing pipelines.
None of the computer models used to predict storm tracks indicated Bertha could steer south into the Caribbean or toward the Gulf.
Hurricane forecasters have predicted this season, which began on June 1, will be average or above average. An average season has around 10 tropical storms, of which six reach hurricane strength with winds of at least 74 mph (119 kph).
The record 2005 season, which included Katrina, the hurricane that swamped New Orleans and killed 1,500 people on the U.S. Gulf Coast, saw 28 storms form.
Bertha formed last Thursday near the Cape Verde islands off Africa. It is unusual for storms to form so far east so early in the season, and when it does happen, it is frequently a harbinger of heightened storm activity.
More information about the hurricane is available at the National Hurricane Center's Web site (http://www.nhc.noaa.gov/#BERTHA).