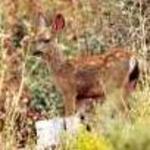 ©Robert Durell/Los Angeles Times
A young deer watches firefighters.
The fires burning in Big Sur and Goleta are forcing evacuations, destroying thousands of acres and threatening more damage. Among the victims of the wildfires are animals--both wild, like this deer in Big Sur, and domestic. Pets have had to be sheltered, animals have been forced from their habitat and some condor chicks may have been lost.
The Salinas Californian
reports on fire-related issues in central California:
As authorities order mandatory evacuations due to a fire that has scorched more than 50,000 acres in Big Sur, organizations are lending a hand to owners of animals, both small and large. The Society for the Prevention of Cruelty to Animals of Monterey County is opening its doors to evacuating residents who need a place to shelter their pets or livestock, whether it's a tiny turtle or a large cow.

Beth Brookhouser, director of community outreach for the organization, said Thursday the SPCA has rescued and sheltered roughly 227 animals affected by both the Basin Complex Fire in Big Sur and the Indians Fire in more remote parts of the Los Padres National Forest.
The Associated Press
, meanwhile, reported that "so much forest has burned near Big Sur that animals have been forced out of their habitat and onto the roads. Buzzards flew overhead to snatch up dead rodents and squirrels, and residents reported that they'd seen bear, deer and other big animals migrating toward the sea."
And finally, the
Monterey Herald
is reporting that the fate of condor chicks near the fire zone is unknown.
One rare California condor chick may be dead and two others are in areas too dangerous to be saved, as the Basin Complex Fire creeps into their once-serene canyons. "It is horrible, but there is nothing we can do," said Kelly Sorenson of Ventana Wildlife Society, which monitors each bird along the vast Central Coast.
Thick smoke thwarted a rescue attempt early Tuesday. "We're just waiting, watching and hoping for the best. Our hands are tied," he said.

The chicks are about 2½ months old, covered in downy gray feathers and already the size of chickens. Too young to fly, they are confined to their nests.

--Alice Short