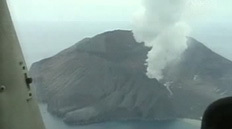 ©Unknown
Vulcanologists are continuing to keep a close eye on White Island.
Two or three hundred aftershocks continue to rattle it after a 5.4 magnitude earthquake centred just 10 kilometres south-west of the volcano on Friday.
GNS Science is warning people to stay off the island for another day or so.
Vulcanologist Brad Scott says the aftershocks may have made it a bit touchy, and it is best to err on the side of caution.
He says some of the aftershocks have been as strong as magnitude four, and have been felt in the Bay of Plenty.
The volcano remained on 'Level One' alert on Sunday morning.
Scott says this means that while the volcano is kicking up a bit of a fuss, it is not yet threatening to erupt.
He says the volcano is being constantly monitored.