KURIHARA - Rescue teams digging their way through a ravine buried in mud Sunday pulled three bodies from a hot springs inn, bringing the death toll to nine after a powerful earthquake rocked northern Japan.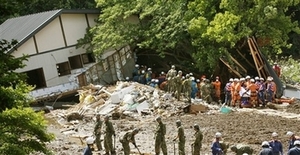 ©AP Photo/Kyodo News
Rescue workers, right, surround a body they retrieved from a two-story hot spa inn, left, which was destroyed by a landslide triggered by Saturday's earthquake in Kurihara, Miyagi prefecture (state), northern Japan, Sunday June 15, 2008. Soldiers fighting through a torrent of mud and rocks dug out three bodies at the hot spring Sunday, bringing the death toll from a magnitude 7.2-earthquake that hit the mountains of northern Japan to at least nine, with more than 200 injured.
Soldiers caked in mud and using hand shovels recovered the bodies of the inn's 80-year-old owner and two others buried when the 7.2-magnitude quake struck Saturday morning, triggering several major landslides.
Four more were believed buried in the wreckage of the inn. Another 100 people in a nearby hamlet remained stranded, some without water, and were being airlifted out by police and military helicopters.
The two-story hot springs resort was inundated by mud, rocks and falling trees when the hill behind it came crashing down.
"It was a tragic disaster," said Isamu Sato, the mayor of Kurihara, a small city that was the hardest hit by the quake. The inn was on Kurihara's outskirts.
The people at the inn were probably having breakfast or preparing for the day ahead when the quake hit a 8:43 a.m. local time, and were not likely to have been bathing, said Shinsuke Yamauchi, a local disaster relief official. Yamauchi said it was a small, family-run inn.
Meanwhile, hospitals treated more than 250 people with injuries, and another dozen were missing. About 300 sought shelter in evacuation centers and city officials inspecting the damage door-to-door urged others to leave homes that were deemed unsafe.
"It was so sudden," said Yotsuko Haga, whose farmhouse was tilted and declared uninhabitable after Saturday's quake.
"I just tried to escape to the outside, but I could barely stand," she said. "Now I don't know where I will go. I must leave here."
A series of powerful aftershocks has hampered search efforts.
More than 470 aftershocks have been recorded since the quake hit and officials warned that more landslides were possible.
A search near a dam where three construction workers were killed was called off Sunday because of fears it may have been cracked by the quake.
"It's so frustrating. We have hardly made any progress because of the sludge," said Masahiro Ishibashi, a soldier searching for the seven missing people at the inn.
The area around Kurihara was especially vulnerable to landslides because the soil is of volcanic origin and contains a large amount of loose ash. Some of the landslides swept off the sides of the hills and spread out for several hundred yards.
"With a quake of this magnitude, it isn't surprising that there was this amount of land movement," Tohoku University geologist Motoki Kazama said after finishing an inspection near the hot spring.
The devastation caused by the quake was concentrated on a few particularly vulnerable sites, and most of the city was virtually untouched. Train service, water and electricity were quickly restored to most areas, though about 2,800 homes in Kurihara were still without power.
The quake was centered in the northern prefecture (state) of Iwate, and was located about 5 miles underground. It was felt as far away as Tokyo, 250 miles to the southwest.
The most recent major quake in Japan, one of the world's most seismically active countries, killed more than 6,400 people in the city of Kobe in January 1995.
At a tree-planting ceremony in nearby Akita prefecture, Emperor Akihito extended his sympathy to those affected by the quake.
"I hope the missing people are rescued promptly," Akihito said. "I hope peace will return to people's lives as soon as possible."