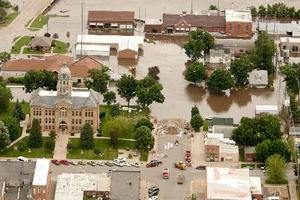 © Cliff Jette, Associated Press
Floodwaters from the Cedar River inundate downtown Vinton, Iowa, on Wednesday. Electricity was cut this morning when rising water affected the city's municipal power plant.
Cedar Rapids, Iowa - From Iowa to Missouri, officials in the flood-ravaged Midwest were frantically sandbagging, watching weakened dams and rescuing residents from water that in some places rose knee-high, while storms threatened more damage in the Upper Plains.
Several tornadoes touched down in Minnesota's Nobles, Murray and Cottonwood counties, damaging trees and farm outbuildings, as well as in eastern Nebraska.
In Minnesota and North Dakota, strong winds closed a highway and even sent a cow into the air, a witness said. Winds gusting at 60 miles per hour were responsible for felling two semitrailer trucks near Fergus Falls about 10 a.m. Both directions of Interstate 94 were closed. At 2:15 p.m., the westbound lanes were reopened, and the eastbound lanes were reopened about an hour later.
Strong winds blew down a barn and reportedly sent cows flying through the air earlier near Valley City, N.D., a spokeswoman for the sheriff's office in Barnes County said.
Elva Dittmer, 83, said she was looking out the kitchen window during the storm and saw what she thought was a cow flying 10 feet through the air. Her son Ronald Dittmer, who owns the barn, said one cow was hurt and another had to be euthanized.
"I've never seen it before and I hope I never see it again," Elva Dittmer said.
Meanwhile, medical examiners along the East Coast revealed that a heat wave from Saturday to Tuesday had killed 17 people, most of whom were elderly.
'Volunteers saved this city'
Along the Mississippi River in Missouri and Illinois, the National Weather Service was predicting the worst flooding in 15 years. Outlying areas could be inundated, but most of the towns are protected by levees and many low-lying property owners were bought out after massive flooding in 1993, officials said.
"Everything is flooded -- everything is up to knee-high," said Patrice Calhoun of Waterloo, Iowa, who rolled up her pants and waded through water to get home Wednesday morning. "You could actually swim in it."
Much of the downtown area in Vinton, Iowa, was flooded, forcing officials to empty the county jail. Five boatloads of inmates were floated out of the jail and to safety on higher ground.
Levies were holding in nearby Waterloo, but officials ordered a mandatory evacuation of dozens of homes and businesses along the river.
In Cedar Falls, a city of about 35,000 farther down the Cedar River, officials were relieved that a frantic volunteer sandbagging effort had kept flood waters out of downtown. All the city's bridges over the river, except one, had been closed as a precaution.
"Our volunteers saved this city, but we are still at a critical point" with the river still 10 feet above flood stage, city spokeswoman Susan Staudt said.
Mike Brake, owner of the Copy Shop two blocks from the river, sandbagged outside his shop.
"Yeah, I'm worried because I've got a lot of expensive equipment in there and no flood insurance," Brake said. "Nobody here has flood insurance because this river never floods."
Even as the authorities sought to cope with the runoff of previous storms, the National Weather Service warned that more rain was on the way.
"Rainfall amounts from 1 to 4 inches look likely for the Wednesday through Thursday time frame," the forecast said. "With the ground well saturated, much of this would run off into rivers and streams already high with recent rainfall leading to more river flooding," the agency warned, saying Iowa, southeastern Minnesota and Wisconsin risked more flooding.