A pair of beavers have built what is believed to be the first dam in England for centuries.
The animals were hunted to extinction in England and Wales during the 12th century and disappeared from the rest of the country 400 years later.
However, two beavers from Germany were introduced to a river enclosure in Devon last year.
This year, the pair have built a 6ft dam with mud, bark and twigs on the River Tale at Escot House, near Ottery St Mary.
John-Michael Kennaway, who owns the estate, has been working to reintroduce the animals on the site for three years. He said that the beavers may be rearing young, known as kits.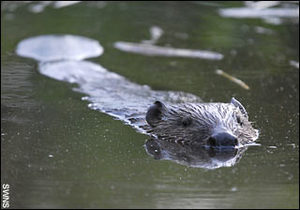 ©SVAS
One of the beavers that has settled on the River Tale
"The male beaver has been spotted feeding alone some distance from the lodge, whereas the female seems keen to stay close to their home," he said. "This might suggest that she has young inside, but we won't know until at least late July when they're ready to come outside."
The beavers are kept in an enclosure to prevent them from escaping into the wild.
Mr Kennaway said: "We haven't had beavers here for 800 years because they were hunted to extinction. Now, a year after they came to Escot, they have built a dam and we think they are breeding. We won't know for sure for a couple of months but it is very encouraging. It really is a superb structure - quite a feat of engineering for two small beavers."
Over the last few years, 15 beavers have been re-introduced to England, but these have lived on lakes and had no need to build a dam.
In 2002, a group of nine beavers were re-introduced in England at Ham Fen, Kent. In 2005, another six European beavers were released on an enclosed site in South Cerney, Gloucestershire.
More recently, another population was set up at Martin Mere in Lancashire. Beavers have also been released on private land in Scotland.
The animals will only build a dam on a river to form an area in which to construct a lodge to live in. The nocturnal creatures can grow to more than a yard in length and weigh up to 70lb.