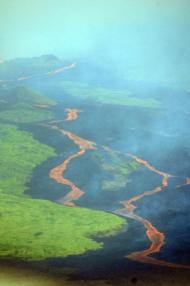 ©AFP
Lava flows down the Cerro Azul volcano
Quito - The lava from an erupting Galapagos volcano did not affect the islands' famed giant tortoises as first feared, Galapagos National Park officials said Tuesday.
The Cerro Azul volcano on Isabela Island erupted between Thursday and Sunday, unleashing a heavy flow of lava, park authorities said in a statement.
Isabela, the largest island in the archipelago, is home to rare and unique flora and fauna, including the Galapagos giant tortoise, which can weigh more than 230 kilos (500 pounds) and live more than 100 years.
The lava flowed some 10 kilometers (six miles) from the crater without causing forest fires, and only burning local flora common to the island, the statement read.
Nor did the lava affect a small town located some 40 kilometers (25 miles) from the volcano crater.
The lava followed the same path as the lava flows from the Cerro Azul volcano during eruptions in 1978 and 1998, it added.
Located 1,000 kilometers (620 miles) west of Ecuador's coast, the archipelago of 13 main islands and 17 islets is a UNESCO World Heritage Site.
In 2007, UNESCO declared the archipelago's environment in danger due to the increase of tourism and the introduction of invasive species.