SILOAM SPRINGS, Ark. - With a pep talk from Gov. Mike Beebe, emergency workers fanned out across Arkansas to help residents cope with another bout of violent weather that pushed the state's storm death toll to 24 for the year.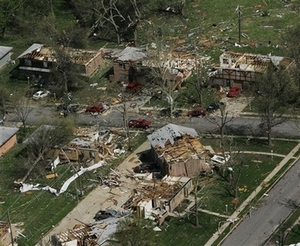 ©AP/Orlin Wagner
Homes damaged by severe thunderstorms are viewed from the air over Gladstone, Mo., Friday, May 2, 2008. Severe thunderstorms with straight line winds damaged over 200 homes and businesses.
"You can see the bags under the eyes of the people who consistently over and over again are called on to respond," Beebe said. "That's their job and that's our job and we'll do it, no matter how many hours it takes or how many days it takes."
Eight Arkansans were killed Friday in thunderstorms that tore up parts of four states, while two dozen or more were injured. Forecasters said that, across middle America, more than 25 tornadoes may have touched down late Thursday and early Friday.
In Arkansas, destruction ran from Siloam Springs near the Oklahoma line to tiny communities along the Mississippi River. Powerful tornadoes killed 13 people in the state on Feb. 5 and another person on Jan. 8.
"This year it just seems like we're getting pounded," Van Buren County Sheriff Scott Bradley said.
Storms ripped off roofs and toppled train cars near Kansas City, Mo. Oklahoma endured severe hail, and tents tumbled at an open-air market in eastern Texas. Late Friday, a storm hit Earle in eastern Arkansas, then a line of severe thunderstorms pushed into Kentucky and threatened to dampen the Kentucky Derby on Saturday.
Wes Morrison, 24, was at a convenience store in Earle when a friend called to warn about the storm. "Dad and I took off," Morrison said. "As we were (driving) down Main Street, you could just see that cloud twirling around."
He and his father made it to an inside bathroom of his grandparents' house just before the tornado came through, Morrison said.
"I don't think it lasted but 10 seconds," he said. "When it was over, the First Baptist Church of Earle, which is just across the street from my grandparents' house - it's gone."
Wind knocked the roof off another church, one so new that neighbors said it had not yet held services.
Members of a work crew ran inside the Southside Baptist Church just north of the Van Buren County town of Damascus after a neighbor warned them of the coming storm. They said it was total silence as the storm approached.
"Everybody was afraid," said Jesus Estrada, 22, a worker.
After the storm ripped through, he and others went down the street and aided firefighters who were helping people out of their homes. Afterward, they stood outside the battered church, having exchanged their soaked clothes for white choir robes.
Nearly 6,000 homes and businesses lost power in the state.
Beebe said Arkansans would cope with the latest in a string of bad weather that has included a foot of snow, a foot of rain and severe flooding that killed three.
"We will fight through it, we will get through it and we will help our neighbors," he said. "We'll do what's necessary to take care of our people."
Forecasters intended to resume storm surveys Saturday. Beebe said he would visit the hardest-hit counties.
Six of the deaths Friday were in two counties, Conway and Van Buren, hit hard by the February tornado. That storm, with a 122-mile-long track, had winds estimated between 166 and 200 mph. The tornado Friday had winds from 135 to 165 mph.
In central Arkansas, a man, a woman and a preschool-age child died when the storm hit their house just south of Bee Branch, in Van Buren County.
"There wasn't anything left," Bradley said. "It was demolished."
Another child who lived at the home had already left for school, escaping injury.
Conway County Sheriff Mike Smith said a man and his son died when storms hit near Birdtown. A second son died later at a hospital.
Near the Arkansas-Oklahoma line, a 15-year-old girl died early Friday when a storm toppled a tree into her family's mobile home in Siloam Springs. She and her 10-year-old brother were sleeping in bunk beds; the boy survived with minor injuries and was pulled from the home's wreckage by neighbors.
"We didn't even know the sister was in there dead," Chad Tilghman said. "She was dead on top of him with the tree on top of her. It was just the mattress in between them, and he was screaming, 'Get it off of me! Get it off of me!'"
The eighth death was reported in Pulaski County, south of Little Rock.
Brandon Baker, Conway County's emergency services director, said six people with "pretty severe" injuries were taken to a hospital. Ten to 20 homes were destroyed in a rural area.
"At this point, we're all at the mercy of Mother Nature," Smith said.
Beebe said at a news conference Friday in North Little Rock that National Guard troops would provide security for the communities hit by the tornadoes. The governor said R. David Paulison, administrator of the Federal Emergency Management Agency, had already called to speak with state officials.
Greg Carbin, a meteorologist for the national Storm Prediction Center in Norman, Okla., said as many as 25 tornadoes may have cut through stretches of Oklahoma, Arkansas, eastern Kansas and western Missouri. Other severe weather approached Chicago's O'Hare International Airport, forcing the cancellation of more than 200 flights.
___
Associated Press
writers Jon Gambrell in Damascus, Ark., Sean Murphy in Oklahoma City and Andale Gross in Gladstone, Mo., contributed to this report.