A volcano has erupted in southern Chile, scattering ash over the surrounding area and forcing more than 1,000 people to leave their homes.
The eruption of the Chaiten volcano caught local authorities by surprise, as experts say it has been dormant for at least 450 years.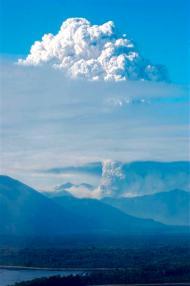 ©AP/Christian Brown, Intendencia Regional de los Lagos
In this photo released by Intendencia Regional de Los Lagos, a large column of smoke and ashes comes out from the Chaiten volcano after it erupted Thursday night, causing 60 minor tremors in the Los Lagos region, 1,200 kms (750 miles) south of Santiago, Friday, May 2, 2008. Chilean government declared a state of emergency early Friday, evacuating about 250 people from the Pacific towns of Blanco and Chana, closing schools throughout the region and urging other residents to stay inside.
But on Friday morning, it blew a thick cloud of ash high into the air.
This prompted the evacuation of sick and elderly people from the town of Chaiten, just six miles away.
Residents have been told not to drink the water, because the reservoirs in the area are covered in a layer of ash.
Emergency workers are handing out face masks to help people breathe more easily.
The eruption also dumped a layer of ash in neighbouring Argentina, forcing the closure of schools and a regional airport.
Chile is one of the most volcanic countries on Earth, with more than 100 active volcanoes. Of those, experts say about 20 are in danger of erupting at any time.