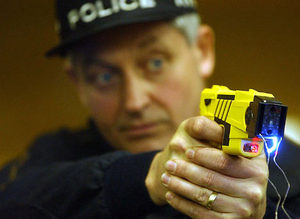 ©Unknown
Lake View man hit by Taser dies
A 24-year-old Lake View man died Thursday, five days after suburban Cincinnati police shocked him with a Taser outside a bar there....
Beer, a fight, fatal gunfire
Torres, a five-year veteran, felled Stamp with an electric jolt from a Taser, and the off-duty officer pulled out his service weapon.
Torres fired his gun twice, hitting Stamp at least once in the chest. The 65-year-old struggled to his feet and said: "I didn't know you were a cop," according to a person familiar with the investigation.
Stamp died at Maryland Shock Trauma Center about 1:30 a.m., leaving police stunned at how one of their colleagues - a person with more than four decades of police experience - challenged a fellow officer and ended up fatally wounded on a grimy lot....
Taser disputes coroner's rulings
AKRON -- Tasers don't kill, say the makers of the stun guns, so they went to court yesterday to protect the company's reputation.
Taser International Inc. wants a judge to order Dr. Lisa Kohler, the Summit County medical examiner, to change her rulings that "electrical pulse incapacitation" contributed to three men's deaths....
Taser's 1Q profit surges 146%
Stun-gun maker Taser International Inc. saw profits surge 146 percent in the first quarter but missed analysts' sales estimates by about 14 percent, sending its shares down to a new 52-week low Thursday.
The Scottsdale-based company reported net income of $1.2 million, or 2 cents per diluted share, for the three months ending March 31, up from $494,554, or 1 cent per diluted share, in the year-ago quarter.
Sales also surged 47 percent....